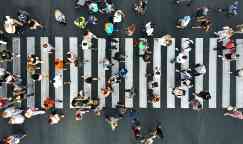 Centre for Social Impact Swinburne
The Centre for Social Impact (CSI) Swinburne is an interdisciplinary research and graduate education centre that strives to create more equitable social and economic systems by working with the people and organisations that make change happen.
CSI Swinburne was established in 2014 to contribute to Swinburne University of Technology's mission to create social and economic impact through science, technology, and innovation. We form part of the national CSI network; a partnership between the University of New South Wales, Swinburne University of Technology, and the University of Western Australia. 
We integrate research, learning and engagement to produce high-quality outputs that are dynamic, accessible and useful. Our research is located at the intersection between social and organisational sciences, and focuses on four key themes: 
social and community innovation 
enterprise for social goals 
measuring and communicating social impacts 
social investment and philanthropy

©
Our research

Discover CSI Swinburne's research and projects that are helping to positively shape the future of our communities.
Industry collaborations
We have produced ground-breaking research in collaboration with not-for-profit, philanthropic, public sector, corporate and social enterprise actors, which has made demonstrable impacts on public policy and organisational practice. 
Our work in social enterprise, digital inclusion, regional development and community services innovation is typically conducted in partnership with the organisations, communities and sectors we seek to serve.
Our partners
We have built strategic industry partnerships to create better social outcomes for communities across the country. 
Our people

Meet the CSI Swinburne team.

Our study options

Explore our courses and research programs related to the area of Social Impact here at Swinburne.

Swinburne Philanthropy and Social Impact Alumni (SPSIA)

Connect with a group of past and present students passionate about philanthropy and social impact.
Want to keep up to date with our work?
Subscribe to our newsletter and receive alerts about upcoming events and news stories.
Centre news
Swinburne study reveals psychological challenges facing music and performing arts

Findings by the Centre for Social Impact Swinburne and music charity Support Act reveal high levels of psychological distress for musicians and performing artists.

Wednesday 25 May 2022

Indigenous Voice: co-design for community representation

A webinar featuring Swinburne's Dr Emma Lee from the Centre for Social Impact discussed the opportunities and challenges of an Indigenous Voice.

Thursday 18 March 2021

Celeste Barber's story shows us the power of celebrity fundraising … and the importance of reading the fine print

Philanthropy expert, Krystian Seibert provides commentary on the power and pitfalls of celebrity fundraising.

Wednesday 27 May 2020

Swinburne researchers appointed as University Distinguished Professors

Professor Jo Barraket and Professor James Ogloff have received the highest honour awarded to academics for outstanding contributions to their fields.

Wednesday 22 April 2020

How to donate to Australian bushfire relief: give money, watch for scams and think long term

Think carefully about how to give to ensure you're not wasting your contribution or inadvertently making things worse, writes Krystian Seibert.

Wednesday 08 January 2020
Find more news articles about the Centre for Social Impact Swinburne.
Explore other research centres
Collaborate with the Centre for Social Impact Swinburne
There are many ways to engage with us. Get in touch to discuss how we can work together to determine new approaches to learning and knowledge creation by emailing csiswin@swinburne.edu.au.
Contact us