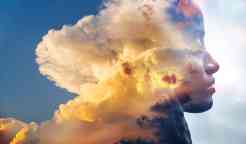 Our Centre for Mental Health investigates the mechanisms involved in severe mental health disorders and ways to improve the lives of people with a severe mental illness.
At the Centre for Mental Health, we believe that people shouldn't have to wait for improved mental health outcomes. We focus on causes and thinking creatively about treatments to create revolutionary and disruptive approaches to treating severe mental illnesses such as schizophrenia and bipolar disorder.

We're breaking down the silos of traditional western medicine that separate the mind, body and behaviour and aim to create a person-centred, holistic approach that will empower the individual at its centre. We're making ground-breaking changes in the form of a whole new field of treatments that have never been tried before. Things like virtual reality to improve online psychotherapies and biopsychosocial treatments with psilocybin to help people with eating disorders, PTSD and chronic depression.
Our approach is resonating with mental health providers ⁠— locally and abroad. We've established research relationships with various government, commercial and not-for-profit sectors and collaborate with Victoria's Clinical Mental Health Services.
Our research

Discover more about the key research the Centre for Mental Health are pioneering to develop treatments for those with severe mental health issues.

Our people

Meet the passionate people at the Centre for Mental Health at Swinburne that are striving to revolutionise the treatment of severe mental health issues.
Our industry partnerships and collaborators

Our industry partners, end users, stakeholders and national collaborators span government, commercial and not-for-profit sectors, as well as universities form around the country.
Study with us
We pride ourselves on an active developmental approach to our students. Beyond the support and resources that all students receive here at Swinburne, students working within the Centre for Mental Health experience a dynamic learning culture, with a rich professional network in Australia and overseas.

You will be sharing labs and study spaces, and most importantly ideas, with some of the most capable and passionate students in Australia. You will be mentored by some of Australia's leading researchers in clinical psychology and neuroscience.
Explore our courses and programs:
Peer Tree Program

Peer Tree is a gamified smartphone app designed to reduce loneliness in young people aged 18 to 25 years old. Available on iPhone and iPad.
Connecting with the community
The Centre for Mental Health is an outwards-facing research centre that provides services for the local community and invites the community to work with us. Explore other research areas within the Centre.
National eTherapy Centre

NeTC offers evidence-based treatment programs for specific types of mental health problems such as generalised anxiety disorder, obsessive compulsive disorder, PTSD and more.

Babylab

The Swinburne Babylab is a research facility that uses innovative techniques to explore cognitive, social and brain development in infants and children.

Voices Clinic

The Voices Clinic is a specialist psychology treatment and research clinic for people who hear voices or have similar experiences.

Swinburne Psychology Clinic

Swinburne Psychology Clinic is the largest university psychology clinic in Australia. The clinic allows students undertaking postgraduate studies in clinical or counselling psychology to gain valuable experience, training and clinical skills needed to work independently.
Our research ethics and integrity
Centre news
Swinburne neuropsychologist named prestigious Isaac Schweitzer Awardee

Professor Susan Rossell has been awarded the prestigious Isaac Schweitzer by Biological Psychiatry for 2020.

Thursday 20 August 2020

Improving the identification and treatment of mental health issues

The Centre for Mental Health will be partnering with Readiness Pty Ltd to improve the identification and treatment of mental health issues

Monday 03 August 2020

Understanding how pandemic conditions affects individuals with mood disorders

A study has found that individuals with a mood disorder reported higher levels of depression, anxiety and stress during the early stages of COVID-19

Tuesday 07 July 2020

Investigating the effects of COVID-19 on eating and exercise behaviours

Swinburne researchers have conducted a study investigating how COVID-19 has affected the eating and exercise behaviours of Australians

Tuesday 09 June 2020

Global study to investigate the impact of COVID-19 social restrictions on health and wellbeing

A global study aims to understand how social restrictions during this pandemic affect our health and wellbeing.

Tuesday 07 April 2020
Find more news articles about the Centre for Mental Health.
Explore other research centres
Contact the Centre for Mental Health