Stories for a brighter tomorrow | Entrepreneur
Jacqueline completed a Bachelor of Engineering at Swinburne before founding Medcorp Technologies, a revolutionary medical technology company. 
Jacqueline Savage, Founder and CEO of Medcorp Technologies, attributes much of her success to her family's unfaltering support for her passions. "I was raised to believe that anything is possible – that you can do and be whatever you like," says Jacqueline.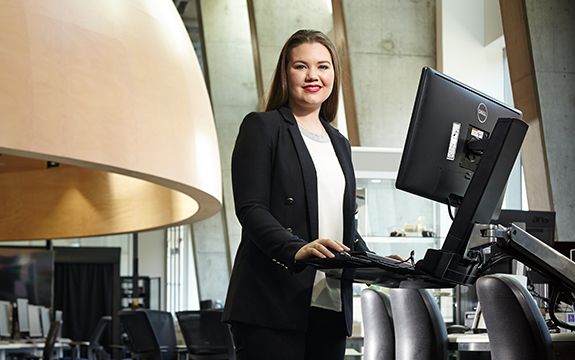 ©
Jacqueline Savage in front of a computer in the ATC
An unbridled passion
Throughout her childhood and teenage years, Jacqueline was a horse-riding enthusiast who saw herself turning her passion into a career. However, she suffered a fractured vertebra after falling from her horse during a jumping competition, putting a halt to her equestrian ambitions.
"It was very disheartening at the time," says Jacqueline. "But looking back, I may never have pursued my engineering career otherwise, and I wouldn't change that for the world."
While it was far from an easy period, Jacqueline's excitement for engineering and unwavering support from her family made the transition to her newfound passion a much smoother one.
"I wouldn't be where I am today without the incredible support and can-do attitude of my parents and sisters growing up," says Jacqueline. "When everyone around you believes you're capable of anything you set your mind to, it's much easier to believe it yourself."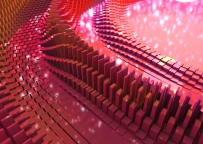 Jacqueline Savage - 2021 Technology Impact Award Finalist
2021 Alumni Impact Awards
Jacqueline won a 2021 Alumni Impact Award (Technology Impact) for her life-changing wearable healthcare products.
A life-changing journey
When it came time to decide on her university and subject of choice, Jacqueline was confident that studying a Bachelor of Engineering at Swinburne would give her the platform she needed to pursue her passion. "Even though I was still in the early stages of my journey, I recognised and respected Swinburne's commitment to innovative technology and making an impact," says Jacqueline. "That really struck a chord with me." 
"I recognised and respected Swinburne's commitment to innovative technology and making an impact."
However, Jacqueline's commitment to making a difference truly began in her third year of university when she lost her friend, who had been battling cancer.
 "After spending most of my Friday afternoons sitting in day oncology while my friend received chemotherapy for her cancer treatment, I began to notice the inefficiencies and challenges that our healthcare system had to overcome due to the lack of available technologies."
One of the primary side effects of chemotherapy is a suppressed immune system, making patients highly susceptible to infections. Due to this, patients are required to self-manage their temperature in-between treatments in order to detect the earliest sign of an infection such as fever, which could be fatal. Unfortunately, this management of a patient's temperature is often forgotten or delayed due to patients commonly only measuring their temperature when they feel unwell – which is often too late. As a result, the infection is one of the leading causes of death for patients receiving chemotherapy.
"A few months after my friend's passing, I lost another close family friend to an undetected infection whilst receiving chemotherapy," says Jacqueline.
"At this moment, to be honest, I was furious. I couldn't help but feel like our healthcare system had let them down – that if more intelligent technology and monitoring systems had been in place, they might still be with us," Jacqueline explains. "That was the pivotal moment when I decided to be that change I wanted to see in the world. I knew that this was an area where I wanted to make an impact. It enables clinicians to more effectively and efficiently treat their patients and focuses on the patient experience and quality of life during their treatments."
"That was the pivotal moment when I decided to be that change I wanted to see in the world."
Becoming the change 
A few months later, Jacqueline set to work founding Medcorp Technologies: a medical technology company developing wearable solutions for the healthcare sector. "Being an engineer, I thought to myself, how could we use technology to detect the early warning signs of infections better? That's when Medcorp was born."
Through her partnership with Swinburne, Jacqueline was able to develop the first iterations of her creation in the university's Factory of the Future. "As a core player in the creation of innovative technologies, Swinburne's support was instrumental in the development of Medcorp," she says. 
Changes in core body temperature are a key early indicator of infections but are usually mismanaged and go undetected. Medcorp Technologies has revolutionised this process by enabling accurate readings through wearable, non-invasive technology.
"It's quite similar to a band-aid in terms of application," says Jacqueline. "But despite its simple, comfortable design, it is able to take clinically accurate body temperature measurements and alert the patient's healthcare provider to any significant changes or abnormalities."
"This was a first for the industry and a tremendous 

milestone for us."
After several years of tireless research, testing and collaboration with over 100 doctors and nurses, Jacqueline successfully demonstrated that Medcorp's technology could achieve body temperature readings in line with the clinical gold standard. "This was a first for the industry and a tremendous milestone for us," says Jacqueline. "We had proven that non-invasive technology could provide the same level of accuracy as an invasive probe that goes directly into the heart's pulmonary artery. It was an incredible moment." 
Paving the way for female STEMM innovators
Although Jacqueline's story has undoubtedly inspired countless young women passionate about STEMM, her gender was rarely in the forefront of her mind. "This may sound strange, but I didn't know that being a female engineer was something that was challenging until someone told me in my early twenties," says Jacqueline. "My parents and sisters had taught me that I could achieve whatever I set my mind to, so the idea that my gender could limit me had never crossed my mind. That really speaks to the power of teaching girls that everything they need to pursue their passion is within them."
"With enough determination and courage, nothing holds you back from being the change you want to see in the world."
For all young women venturing into the world of STEMM, Jacqueline emphasises the importance of recognising your potential and chasing your passion.
"The advice I'd give to anyone walking a similar path is to be brave, take risks, and believe in your ability to make a difference," she says. "With enough determination and courage, nothing holds you back from being the change you want to see in the world."