Stories for a brighter tomorrow | Innovator
Michael is a Swinburne Diploma of Engineering (Chemical) graduate and former chairman of the Swinburne Alumni Singapore chapter, and his son Terence is a Swinburne Bachelor of Business graduate and former president of the Swinburne Alumni Hong Kong chapter.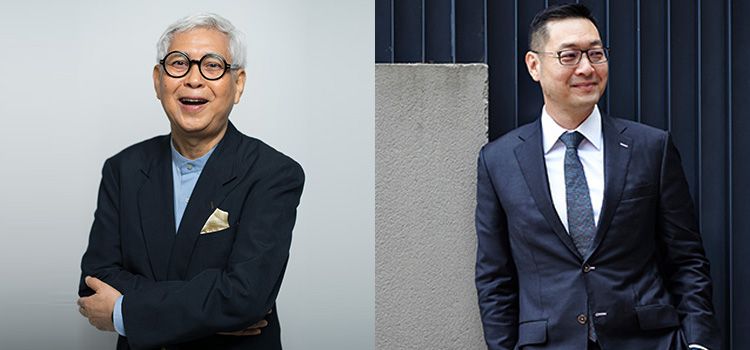 ©
Michael and Terence Yap

Michael's story

Michael Yap arrived at Swinburne from Singapore in 1961 as a 21-year-old chemical engineering and applied chemistry student in the days of the White Australia Policy when few students from Asia were studying in Australia. He was acutely aware of the challenges ahead of him, and with strong English skills, he chose to embrace the experience and integrate into the local community.
"During the vacations … I continued to engage in the industry and made it a point to work in factories."
It helped that he was slightly older than the other first-year students and that his wife, Wong Moo Cheng, an accounting student at the Royal Melbourne Technical College (now RMIT), also spoke English well. "During the vacations, Asians mostly worked in restaurants," Michael says. "Not me. I made a point of working in factories."
Not wanting to miss any industry-based learning experiences either, Michael worked at Glaxo Laboratories as a lab technician, Norman J Hurll & Co as a junior engineer and, after he graduated, joined Bell Bryant Pty Ltd as a sales and technical engineer.
He also became active in the then Overseas Student Union, serving as president and championing more significant ties between Asian and Australian students. Swinburne nominated him to attend the annual Lord Somers Camp, and he became the first Asian student to take one of its leadership courses.
Coming full-circle
Michael had chosen Swinburne Technical College on the recommendation of his sister-in-law, who had studied accounting there. His choices and experiences came full circle in 1998, more than 40 years after he graduated when he was made an adjunct professor at Swinburne University of Technology.
During the years he built a career in Singapore — working in business and for the Singapore government — he remained a constant advocate for the Swinburne alumni community in Singapore. Michael became chairman of the Singapore chapter of the Swinburne alumni, a member of the Swinburne vice-chancellor's international advisory committee and a member of the council of advisors in the Australian Alumni Singapore, which represents more than 140,000 graduates.
''The value of industry-based learning is now very much recognised by other tertiary institutions in Australia and Singapore."
Michael's loyalty to Swinburne has been, in part, a way of valuing the contribution it has made to his career development. It was also born out of recognition and respect for the institution's practical approach to providing students with a taste of how industries perform in the real world and the leadership shown by former Vice-Chancellor Linda Kristjanson, which he very much admired.
"The value of industry-based learning is now very much recognised by other tertiary institutions in Australia and Singapore," Michael says. "It goes hand in hand with a student's long-term career development."
While academic achievement is important, Michael also believes that a person's emotional intelligence plays a crucial role in determining their future success.
"You have to be street smart," he says. "I tell everybody, and I strongly believe it — you have to have confidence in whatever you do. Swinburne, a boutique university, can provide the right environment to breed future entrepreneurs. Although we are not in the Group of Eight (a coalition of leading Australian universities), it doesn't matter. There is a saying that it is better to be a colonel in a small army than a general in a big army. That way, you can shine."
Returning home
After Michael finished his studies, he was offered work in Australia but could not stay because the White Australia Policy was still in place. Being diplomatic, they said, "Your country needs you"' and suggested he return to Malaysia, he recalls. Bell Bryant, the company that had employed Michael after he graduated, offered him the opportunity to open a branch office in Malaysia.
Subsequently, in January 1969, Michael joined the Economic Development Board (EDB) Singapore as one of the pioneer officers. He was given many opportunities to develop his skills further in engaging, relevant industries. He was appointed the head of the EDB mission in Hong Kong in 1970. In subsequent years to follow, he was seconded to the Ministry of Defence in Singapore and was instrumental in helping to establish the marketing arm of the defence industry.
"My peers play golf or sit at home. I think it's more important to be a mentor to young people."
In the 1980s, Michael was appointed general manager of a Hong Kong property company that owned the Park View Hong Kong, a prestigious up-market property development. Prior to his retirement in 2002, he was the president of one of the largest Japanese automotive component manufacturing companies in the Asia-Pacific region.
Since retiring, Michael has found more time to contribute back to Swinburne, helping support alumni in Singapore. "I'm in my eighties," he says. "My peers play golf or sit at home. I think it's more important to be a mentor to young people. I don't treat them as a mentee but as an equal." He says engaging with younger people is a way of remaining young. "That's my philosophy."
Terence's story
Michael's son, Terence Yap, says he made an independent decision to study at Swinburne when he turned 21. It was 1992, and Terence remembers enjoying the vibrantly multicultural campus. "There was all this diversity — Indonesians, Malaysians, Koreans … and of course the local people."
Before attending Swinburne, Terence had completed two years of national service in the Singapore army and attended a boarding school in Dover, England. In Melbourne, the atmosphere was more casual, the seasons were upside down, and he fell in love with Yuk Ping (Eppie) Wong, a student in his Japanese class. She was an accounting student, just as his mother had been. Terence and Eppie married and now have three teenage children.
Terence is now a Hong Kong-based businessman. He agrees with his father that Swinburne's practical orientation was helpful. "In management accounting, we had to choose a client and come back and do a report on their business. It was a group project, and it had a real-life application." He remembers Brian Spurrell, his accounting teacher, who brought different examples and personal experience to make the classes more interesting. Terence also admired his economics teacher, Dr Patrick Xavier.
Learning from the ground up
After graduating, Terence returned home and found a job as a project engineer for a communications company, installing rooftop satellite dishes in Singapore and Indonesia. The task had very little to do with his degree, he admits. "But it did help me learn about the industry, in-depth from the ground up," he says.
"Often, you face a challenge, and how you deal with it depends on your attitude."
Eventually, Terence joined the market-development department, which sent him "to all the countries nobody wanted to go to — Pakistan, Myanmar, Russia, Cambodia, and Papua New Guinea. It was great. I relished the opportunity," Terence says. "I was dealing with people in different cultures. It helped me be humble and see that the world was bigger than I knew."
Terence believes a person's attitude is crucial to their success in business and life. "Often you face a challenge and how you deal with it depends on the attitude that you have … business is about dealing with people, and then coming up with solutions."
Life after Swinburne
Terence, 51, is the Chairman of Guardforce AI Group, a global integrated security solutions provider focused on developing robotic solutions and information security services that complement its well-established secured logistics business.
"We want to encourage any graduates to come back... to help them network and interact."
Since leaving Swinburne, Terence has earned a Master of Business Administration from the Chinese University of Hong Kong. He has not forgotten his first university, serving as president of Hong Kong's Swinburne Alumni Association until 2014. Terence still attends events occasionally. "We want to encourage graduates to come back, so they are not all alone … to help them network and interact," he says.