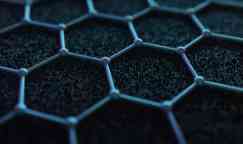 Graphene Based Energy Storage
Part of the Optical Sciences Centre, this facility comprises the Energy Storage Industry Hub, the Acid Etching Lab, the Module Assembly Lab and a CUDOS Laser Lab.
Energy Storage Industry Hub
The Energy Storage Industry Hub is aiming to develop a commercially viable prototype of thin film energy storage device based on their recent breakthroughs on laser printed graphene oxide films. With advanced laser patterning technology, high-performance millimetre scale super capacitors have been achieved. To meet the various practical application requirements, the technology will be scaled up to centimetre level. In the meantime, the performance will be retained and the reliability, repeatability and long-term performance will be tested.
The manufacture cost and throughput for mass production holds the key to making it a commercially viable prototype. To this end, the film fabrication and integration methods and the laser fabrication methods need to be innovatively improved. A large volume of graphene oxide solution will be developed for large-scale graphene oxide film synthesis techniques by modifying existing successful process and develop integration method according to the requirements of the devices. The current single point direct laser writing will become a major limiting factor for mass production. A parallel and high-speed laser printing technology will be developed, allowing high speed printing of super capacitors.
Location: AMDC1004
Equipment:
Spectra Physics Diode laser (180mW/1mW, 488nm/ 976nm, CW)
Acid Etching Lab
The Acid Etching Lab provides instruments mainly used for research in the field of super capacitors, corrosion, electroplating, conventional electrochemistry, sensors, batteries, fuel cells and more. Corrosion potential, corrosion current and impedance data of metal corrosion samples were calculated by testing the polarization curves and electrochemical impedance spectra of metal corrosion samples to evaluate the corrosion resistance of metals. By testing the cyclic voltammetry curve, AC impedance spectrum, and constant current charge and discharge curve of the battery, the capacity and life of the battery are calculated to evaluate the performance of the battery. The glovebox is provided with N2 circumstance for test of devices with electrolyte such as ion liquid, which require inner atmosphere.
Location: AMDC1010
Equipment:
Potentiostat/Galvanostat (Autolab)
Glove box
Module Assembly Lab
The Module Assembly Lab is equipped with Spectra-Physics ultrafast lasers that offer new applications in a wide range of research, medical and industrial fields. Our high energy amplifiers are the light source of choice for leading scientists conducting cutting edge research in physical chemistry, high energy physics, material science, optoelectronics and other advanced applications.
Location: AMDC1014a
Equipment:
Spectra Physics Spitfire (1W, 800nm, 1KHz, 100fs)
Spectra Physics Empower (20W, 527nm, 1KHz, 100-300ns)
Spectra Physics Millennia (5W, 532nm, CW)
Spectra Physics Tsunami (2W, 690-1000nm, 80MHz, 100fs)
Spectra Physics OPA-800C (100mW, 1100-2600nm, 1KHz, 130fs)
Centre of Excellence: CUDOS Laser Lab
This lab is equipped with the Supercontinuum Laser system, which is a high-power ultrafast fibre continuum source that utilises efficient pulse compression to provide high quality optical pulses of 4 ps. The SC laser is operating at the central wavelength of 1060 nm, with a spectral bandwidth spanning from below 540 nm to beyond 900 nm. The broadband channel provides in excess of 10 W of average power. This system is designed for the most demanding scientific and industrial applications and delivers high average powers while maintaining exceptional beam quality and femtosecond pulse duration. This lab also includes other type of lasers as listed below.
Location: AMDC1006
Equipment:
Fianium FemtoPower 1060 (10W, 1060nm, 80MHz, 4ps)
Coherent Cube (30mW,372nm, CW)
Picoquant LDH (50mW, 405nm, Single shot to 40 MHZ, 40ps)
Uniphase He-Ne Laser (4mW, 633nm, CW)
Want to book these facilities?
Our laboratories and equipment are available for Swinburne students and staff as well as researchers from other universities to use.
Make a booking
Explore our related research centre
Optical Sciences Centre

The Optical Sciences Centre conducts research addressing scientific and technological challenges in the domain of optical sciences spanning classical and quantum photonics, light–matter interactions, nanotechnology, biomedical and biosciences, quantum gases and quantum materials. 
Contact the Graphene-Based Energy Storage team