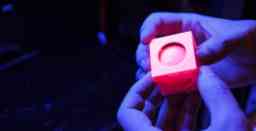 3D Laser Fabrication Laboratories
Part of the Optical Sciences Centre, this facility comprises the 3D Nano-Printing Industry Hub and a CUDOS Laser Lab.
3D Nano-Printing Industry Hub
The 3D Nano-Printing Industry Hub offers a 3D laser printing facility for 3D complex nanophotonic fabrications on photo-sensitive polymers, such as IP-L and SU8. By using a 532 nm pulsed laser beam, multi-photon absorption is utilised to achieve the minimal feature size of 300 nm.
Location: AMDC1002
Equipment: Fianium FemtoPower 532 (1W, 532nm, 50MHz, 300fs)
Centre of Excellence: CUDOS Laser Lab
The CUDOS Laser Lab is equipped with Coherent Libra HE, which is designed in a ruggedized, ultra-stable and compact shape. With key design innovations throughout, the Libra has proven itself in a wide range of scientific applications and demanding industrial settings. The system includes a computer-controlled amplifier that contains integrated Vitesse as a seed laser, Evolution as a pump laser, regenerative amplifier, stretcher and compressor. The amplifier at Libra-HE has 10kHz repetition rate with pulse durations of 85 fs.
The Vitesse includes a CW diode-pumped green laser along with a modelocked Ti-Sapphire oscillator. The Vitesse output is characterised by a fixed center wavelength of 800 nm, pulse width of 80 fs, and output power of 300mW at a repetition rate of 80 MHz.
The Evolution is a diode-pumped, intra-cavity doubled, Q-switched Nd:YLF laser capable of producing of output power of 30W with repition rate of 10 KHz at 527nm.
Location: AS115
Equipment:
Coherent Libra HE (3.5W, 800nm, 10KHz, 85fs)
Coherent Vitesse (300mW, 800nm, 80MHz, 80fs)
Coherent Evolution (30W, 527nm, 10KHz, 1.8µs)
Want to book these facilities?
Our laboratories and equipment are available for Swinburne students and staff as well as researchers from other universities to use.
Book now
Contact the 3D Laser Fabrication Laboratory team