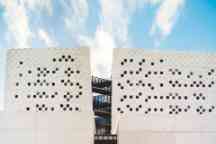 Achievements and recognition
Swinburne's reputation as a leader in research and innovation is growing year-on-year. Our world-class researchers focus on projects that cross disciplines and make real-world differences.
Our combination of focused research, valuable industry collaborations and investment in cutting-edge technologies, has driven significant research achievements and attracted recognition from around the world. Our six dedicated research institutes and 15 research centres ensure we are at the forefront of discovery.
A growing list of important research findings, business partnerships and spin-off companies along with a steady increase in government grants and international rankings, puts Swinburne in an advantageous position for the future.
$57.1m external research income1
196 research degree completions2
2,200 indexed publications in 20213
16 five-star discipline areas4
Our research strengths

Highly Cited researchers
13 Highly Cited researchers across 15 disciplines
Our researchers have been highly cited across 15 disciplines for 2021, Clarivate Analytics Web of Science Group.
ERA achievements
Excellence in Research Australia is Australia's national research evaluation framework. In the latest report (2018), Swinburne achieved:
16 discipline areas ranked at a 5 (well above world standard)
20 discipline areas ranked at a 4 (above world standard)
20 specific fields of research ranked at a 3 (at or above world standard)

External research income
$57.1m 2021 total external research income
Our international footprint
MALAYSIA
Sarawak
Swinburne Sarawak Campus
INDIA
Madras and Hyderabad
Joint Research Centre with Indian Institute of Technology, Madras (IITM)
Joint Research Hub with Indian Institute of Technology, Hyderabad (IITH)
GERMANY
Stuttgart
Arena 2036 Research Hub, University of Stuttgart
USA
Silicon Valley, San Francisco
CSIRO-Swinburne Strategic Partnership
CHINA
Weihai and Hong Kong
Joint Research Centre in Advanced Manufacturing with Shandong University Weihai, Weihai Economic and Technological Development Zone and the Australian Education Management Group
Hong Kong Productivity Council PhD Hub 
Higher Degree by Research achievements (2021)
196 higher degree by research completions
More about our research achievements
Rankings and ratings

Our standing in prestigious world academic rankings reflects our commitment to high-quality teaching, research and graduate outcomes.

Excellence in Research for Australia outcomes

Our long-standing commitment to high quality research is demonstrated in the most recent Excellence in Research for Australia (ERA) ratings. 

Partnered research centres and training hubs

Partnered Research Centres and Centres of Excellence are significant activities in areas of national importance. They focus on impactful research and transformative outcomes.


Achievements and success stories

We don't just talk the talk — we walk the walk. Read about some of our key partnerships, programs and recent success stories.

Start-up and spin-off companies for research translation

Learn more about our successful spin-off companies, formed through research partnerships with businesses and industry.
Significant research findings
Swinburne's research findings have a far-reaching impact on science, industry and the broader community. The university's researchers have made discoveries that have dramatically changed the face of fields ranging from medicine to social services, astronomy and aeronautical safety.
Explore some of our most recent research outcomes below:
Swinburne continues global rankings rise

Swinburne has reached the top 250 in the Academic Ranking of World Universities, confirming the university's place in the top 1% worldwide.

Friday 19 August 2022

Professor Matthew Bailes elected Fellow of the Australian Academy of Science

Pioneering astrophysicist Professor Matthew Bailes has been recognised for his outstanding contributions to science by being elected a Fellow of the Australian Academy of Science.

Thursday 26 May 2022

Swinburne study reveals psychological challenges facing music and performing arts

Findings by the Centre for Social Impact Swinburne and music charity Support Act reveal high levels of psychological distress for musicians and performing artists.

Wednesday 25 May 2022

Swinburne research lets you meet (and treat) the voices in your head

World-first Swinburne-led clinical trials will test the use of virtual reality technology to help people with schizophrenia and other psychotic disorders address and overcome auditory hallucinations.

Tuesday 24 May 2022

Industry leaders to boost Centre for the New Workforce

Two of Australia's leading experts in digital experience and industrial relations have joined Swinburne's Centre for the New Workforce (CNeW) to lead projects on the rapidly changing future of work.

Thursday 24 February 2022
Research impact

Our researchers are dedicated to driving economic and social impact. We are searching for solutions at the intersection of technology and humanity, pushing the boundaries of what is possible and inventing the future.
1 Total external research income for 2020
2 Higher degree by research completions (Oct 2019 – Oct 2020)
3 Scopus indexed publications in 2020
4 16 discipline areas ranked 5 stars (well above world-standard), 2018 ERA report

Contact Swinburne Research