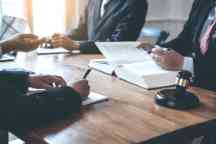 Legal advice for students
Get free, independent legal advice from one of Swinburne Student Life's legal partners.
If you need confidential advice and assistance with a legal issue, Swinburne Student Life can assist you. We have an arrangement with several legal firms to provide free advice to students when need it.
These firms are conveniently located near our campuses. All currently enrolled students may receive up to three hours of free, independent advice on any legal matter.
Note: These law firms cannot advise on:
student vs student disputes
student vs Swinburne University of Technology disputes
student vs Swinburne Student Life
migration, immigration, taxation, accounting, bankruptcy or financial advice
lawsuits and litigation.
How to receive legal advice

Legal advice is provided by referral and appointment only. You can request a referral by phone or email, or by dropping into Swinburne Student Life on campus.
You must also complete and submit the Application for legal assistance form when requesting a referral.
Contact the legal advice team
To contact a member of the legal advice team, phone +61 3 9214 5445 or email legaladvice@swinburne.edu.au. Swinburne Student Life is located at:
Hawthorn: George Level 1
Wantirna: WB 2.24
Croydon: CF 113

Need to speak to our legal advice team?