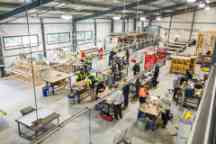 An apprenticeship lets you earn while you learn your way to a nationally recognised qualification. We have been offering TAFE qualifications for over 100 years so we know how to make you ready. Start your journey with us.
What is an apprenticeship?
An apprenticeship teaches you the theory and practical skills needed to forge a successful and rewarding career in your chosen field and allows you to gain a formal qualification — all while earning a wage through on-the-job employment.
Students that enrol in an apprenticeship course at Swinburne have access to state-of-the-art facilities and will work with the same equipment and technology used by industry professionals.
From building and construction to electronics, plumbing and more, find the apprenticeship course that's right for you, at Swinburne.
Thinking of doing apprenticeship?
The specialist team at the Swinburne Skills and Jobs Centre can help you make career decisions, such as entering or re-entering the workforce, training, re-skilling or even completely changing careers.
We can also help you with résumé and cover letter preparation, interview skills, job search, information on employment trends, referral services and more. Our services are government-funded and available for free to everyone.
Find out more