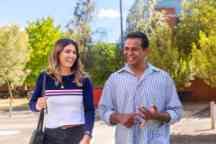 Studying at a tertiary level can represent a big jump in your academic journey. At Swinburne, we offer a range of academic support services to help you get the most out of your university experience and achieve your academic goals. Learn more about the services available for Aboriginal and Torres Strait Islander students.
Our Indigenous Student Services team located at the Moondani Toombadool Centre are available to support you as an on-campus or online student or community learner to enable you to be in control of your own studies.
Moondani Toombadool means 'embracing teaching and learning' in the Woiwurrung language of the Wurndjeri People and the team there can help you achieve your academic goals through a variety of support services and programs for indigenous students.
You might be eligible for a scholarship!
At Swinburne, we offer a range of scholarships that are available for eligible Aboriginal and Torres Strait Islander students. Learn more these scholarships and understand the financial benefits each one can provide.
Search scholarships
Indigenous student services

Our team in the Moondani Toombadool Centre supports Indigenous students, including on-campus, online and community learners, to be in control of their own studies.

AccessAbility services

At Swinburne, we offer an inclusive and welcoming environment for people living with a disability, medical condition, mental illness or with primary carer responsibilities.
Indigenous Academic Success Program
Work alongside qualified tutors and improve your study outcomes through the Indigenous Academic Success Program (IASP) that is provided free to Indigenous Australians here at Swinburne.
Learn more
Our services
Parental support

Swinburne students and staff have access to childcare centres located at our Croydon, Hawthorn and Wantirna campuses, operating Monday to Friday. We also provide safe and secure parental facilities for you to bring your children should they have to come to campus. 

Health and wellbeing

We offer comprehensive professional health and medical services to support the mental, physical and emotional wellbeing of the Swinburne community.

Learning and Academic Skills Centre

Visit the LAS Centre for free consultations to improve your academic and language skills. Get advice on essay writing, making presentations, researching and help with exam preparation.
Indigenous research
At Swinburne, we conduct research projects with Indigenous organisations, industry groups and other universities that focus on contributing to Australia's economic and social objectives. Our aim is to provide high-impact research and partnerships creating positive change for Indigenous peoples, our students, staff and the wider Australian community.
We commit to research projects that directly support Indigenous peoples' engagement in higher education studies, employment and career progression through our Reconciliation Action Plan.
Find out more about how our research projects are engaging with Indigenous organisations, industry groups and other universities via our Indigenous Research page.
Indigenous matters
We respect the sovereignty of Aboriginal and Torres Strait Islander knowledges and are committed to authentic recognition within teaching and learning and research. Education is transformative, and as leaders in Reconciliation, Swinburne is committed to ensuring all graduates and staff are culturally competent.
Learn more about our commitment
Need to contact an Indigenous Student Adviser?