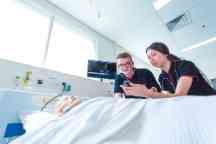 For some, nursing is a career — but for many, it's a calling.
A world-class healthcare system needs nurses who can not only connect with and care for patients, but also nimbly adapt to and adopt new technology throughout their career.
Our nursing courses give you the skills you need to work as an enrolled nurse or registered nurse. Your degree will also give you the knowledge and understanding to provide patient-centred care in a variety of settings, with technology that's always changing.

Learn in cutting-edge facilities that simulate real-life situations and settings.
Browse TAFE, undergraduate and postgraduate nursing courses to find detailed course information, application dates, nursing ATAR scores, fees, entry requirements and more.

Browse our Nursing courses
Are you in high school?
Get an early taste of university with a series of events just for you: A Day in the Life of a Swinburne Student.
How to become a nurse

Becoming a nurse is more than just a rewarding and fulfilling career choice — for many it's a calling. Learn how to become a registered or enrolled nurse and help people in your community.
Why study Nursing with us?
5 stars for learner engagement
#1 in Melbourne for staff:student interaction
#1 in Melbourne for graduate satisfaction
Hands-on experience with 800 hours of clinical placement^
Sources
^ Included in our Bachelor of Nursing
Our nursing facilities
Students in Hawthorn nursing labs

Students in Hawthorn nursing labs

Students in Hawthorn nursing labs

Students in Hawthorn nursing labs

Students in Hawthorn nursing labs
"This course has allowed me to gain a much better understanding of the nursing profession and has been a great stepping stone into the industry. I've enjoyed every moment of the course. My experience on my first aged-care placement was one I'm truly grateful for, as I was given the space to learn and participate in everyday life at the hostel."

Samantha , Diploma of Nursing (enrolled/Division 2 nursing)
Simone's career reboot: from IT to nursing

When Simone realised she could never do her corporate job on a part-time basis, a switch to studying nursing opened up a new a world of personal fulfilment and work-life balance.  

Thursday 12 May 2022

Interactive dummies deliver the smarts for next-gen nurses

In the future, nurses will need enhanced digital health technology and leadership skills. And they'll be needed in much higher numbers. Here's how Swinburne is helping with both of those things.   

Thursday 12 May 2022
Related Health courses