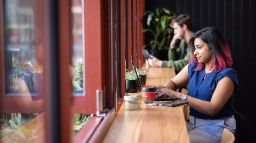 Co-design a hybrid working strategy for your organisation
Create the ideal flexible workplace with alt_shift_office to optimise your office space, enable meaningful connections, and drive innovation with a practical, research-informed approach.
Contact us
The COVID-19 pandemic has changed work forever. Medium and large organisations are faced with a new challenge. Adapt and implement hybrid working policies that meet worker expectations, or risk financial and competitive fallout from empty offices, slowed innovation and a decreased ability to attract and retain talent.
Working from home has supported productivity but disrupted the interpersonal connections and interactions that drive innovation, value and sustained business growth. Our research shows workers want to return to an office that is reimagined for collaboration, creativity and connection. A practical, evidence-based approach is needed to develop flexible arrangements for the future that employees and stakeholders will embrace.
Backed by science and developed by leaders in workforce transformation, alt_shift_office helps you to create a hybrid working solution with input across your organisation. Aligning stakeholders and business objectives, alt_shift_office uses real insights to develop a roadmap to a new workplace that is exciting, effective and optimised for long-term innovation and success.
Why alt_shift_office?
Practical
We collect real insights and use them to create an actionable roadmap that specifically addresses your organisation's current and future needs.
People-focused
We include workers, leadership and stakeholders in the process to co-create hybrid working solutions that will be embraced by everyone.
International expertise
Our consultants are recognised leaders in workforce transformation, in Australia and abroad.
Research-driven
Our solutions are backed by research and supported by data to design leading-edge strategies for hybrid work to take your organisation forward.
The future is hybrid

Research shows that employees expect flexible working arrangements – a hybrid between working from home and in the office each week – to be the new normal. This has created an 'expectation gap' between employees and employers. A pathway forward is needed to align the needs of both with a hybrid work strategy that is scientifically based, meaningful, and optimised to achieve your organisation's goals.
Without a clear hybrid working plan, your organisation faces:
empty or underutilised physical offices, which have huge implications for cost and planning resources for the future
fewer meaningful connections and interactions as well as reduced collaboration, all of which are critical for innovation and the new ideas that drive sustained business growth
decreased workforce satisfaction and engagement
diminished ability to attract and retain talent in a market where employees expect flexible working arrangements.
Reimagining the office
In an environment of ongoing disruption, the office takes on a new sense of purpose and sustained value. Physical spaces must increasingly be viewed as the central point for an organisation's social capital. A place where the essential connections and interactions for productivity, learning, culture and wellbeing happen to generate new ideas and drive organisations into the future.
To plan and achieve this, a hybrid working solution is needed with input from workers, science-based strategies, and alignment with business objectives and vision. This empowers workers to learn, apply and create value as individuals and teams, optimises resource planning and prepares organisations to be ready for what's next.
"Meaningful connections and interactions are essential for the productivity, learning, culture and wellbeing that drive innovation and value creation"

Dr Sean Gallagher , Director, Centre for the New Workforce
Create your hybrid workplace with alt_shift_office
alt_shift_office helps you create a research-driven rationale and a roadmap for use of the office that optimises your physical and virtual domains. Engaging with leadership teams and stakeholders, alt_shift_office ensures an ideal hybrid workplace strategy can be planned and implemented that suits how your organisation works.
A collaboration between Swinburne's Centre for the New Workforce (CNeW) and Swinburne Research teams, alt_shift_office is led by internationally recognised experts and informed by the latest insights from workforce transformation from Australia and abroad.
Our process
Discover

Step 1

We'll work together to map your current state, workplace vision and business objectives.

Learn

Step 2

Insights are collected and analysed using survey sampling methods to identify your hybrid working needs, based on workplace value drivers and enablers.

Align

Step 3

Findings are presented and recommendations co-designed with your leadership team to transition to the new working environment.

Implement

Step 4

A final report and action roadmap are provided, detailing a practical path to optimal use of your physical and digital domains.
How are Australians currently experiencing hybrid work?
The Centre for the New Workforce has undertaken a national survey to reveal current working arrangements and worker expectations for the office and hybrid work in Australia.
The survey provides valuable insight into how you can create a workplace model your people will embrace, that also cultivates the right interactions to drive future results.
Learn more about the hybrid work survey
Need a hybrid working solution for your organisation?