Hybrid Working in Australia
An expectation gap about hybrid work is emerging between workers and organisations. Our national survey provides insight into current hybrid work experiences and the future role of the office.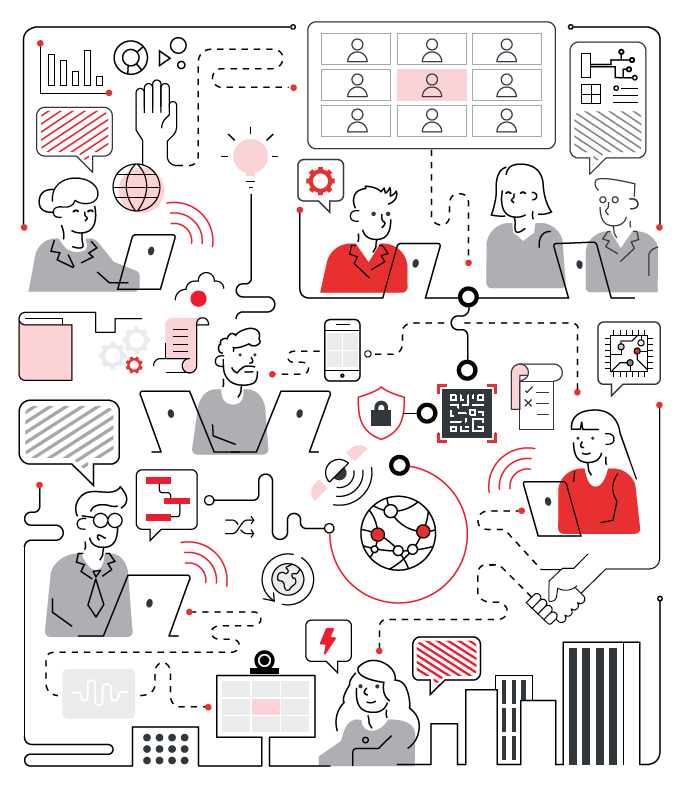 2021 REPORT
Hybrid working 2.0: Humanising the office
A transformation is underway. This report reveals insights on the flexible working experiences of white-collar workers and what the office could look like in the future.
Our workplace needs are evolving
COVID-19 has changed work forever, having a profound impact on white-collar workers and medium to large employers. Many organisations have found themselves navigating a new work environment­ – one which has seen offices, in-person collaboration and meeting rooms replaced with video conferencing, virtual networks and online communication tools.
Remote technology has allowed service delivery to continue with minimal disruption, but empty offices have huge cost implications and bring new challenges: those of sustained productivity, innovation and wellbeing.

An expectation gap is emerging between workers and organisations. To adapt and thrive successfully, businesses must understand the current state of hybrid work, and how workforce needs are shifting as a result.

"While always seen as central to an organisation's operation, offices should now be viewed in a new context of driving sustainable business growth and social impact."

Dr Sean Gallagher , Director, Centre for the New Workforce
Bridging the hybrid gap
The Centre for the New Workforce (CNeW)'s 2021 national survey seeks to understand the current experience and state of hybrid work in Australia. It draws new insights about which business solutions and methodologies are working, and areas for organisations to improve.
A total of over 1,000 respondents from the white-collar workforce across Australia answered questions across three categories:
current work situation
future state of hybrid working post-pandemic
the role of the office.
The survey reveals and compares key information regarding work habits before COVID-19 and how preferences are changing.
Conducted in August during the second year of the pandemic, the survey also reveals how we're currently balancing work across physical and virtual domains, the rise of flexible working, and the perceived purpose and importance of the physical office in a hybrid working future.
Our report details these findings and draws valuable conclusions to help organisations bridge the expectation gap between their requirements and their workers.
Key findings
Collaboration, connection and learning
are what workers are looking forward to when returning to the office.
Flexible work
has become the most preferred arrangement for workers.
Worker retention
will decrease if flexible working is not part of an organisation's future.
Attracting and hiring
could be a challenge, with 43% of workers saying no flexible arrangements could be a deal-breaker.
Looking for a meaningful hybrid working strategy?
Create your ideal flexible workplace and optimise your organisation's office space and innovation with alt_shift_office.
Learn more
Contact the Centre for the New Workforce