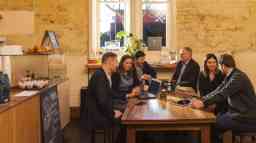 Social Innovation Research Institute
Where technology meets humanity to co-create solutions for complex social challenges.
Contact us
The Social Innovation Research Institute is leading social innovation in the digital economy. We create solutions to complex social problems using co-design, new technologies and data analytics techniques. We work at the intersection between social challenges and the potential of technology, striving for greater social equity.
Drive innovative social practice through new methods, data and networks
Generate evidence and insights that address real-life social problems
Catalyse a community of innovators dedicated to social good
Our research programs
Finding solutions to complex social problems
Our people
Blending expertise across social and data science.
Our key capabilities
Analysis & Policy Observatory (APO)

APO is an open access evidence platform – making public policy research and resources accessible and useable.


Social Data Analytics (SoDA) Lab

Enabling a connection between data, data science and an empowered community sector within the emerging Society 4.0.

Social and Community Services 4.0

Download a copy of Swinburne's Social and Community Services 4.0 Tech Capable 2025 briefing.
Article: Researcher tackles scourge of loneliness

Professor Jane Farmer speaks to The Australian about Swinburne's ARC Linkage grant which will focus on building social connections.

Note: This content requires a subscription to read in full.


Report: Data for Good Collaboration

This project aimed to build organisational data capacity through knowledge sharing about data literacy, expertise and collaboration; and deliver data insights to create the Data for Good Collaboration model. 
Work with us
Whether you're a community, government or corporate organisation, we want to work with you to drive innovative practice and help solve your complex problems! We have a great team of researchers across a variety of disciplines who can work across projects of all sizes. Get your project started by following these steps: 
Talk

Step 1

Let us know the challenges you're facing, your ideas or your questions and we'll work out how to align our research expertise. Call us on +61 3 9214 8180 or email sii@swinburne.edu.au.

Co-design

Step 2

We get together for a co-design workshop, to brainstorm ideas and solutions.

Funding

Step 3

If the project needs funding, there are various opportunities we can tap into, including applying for external grant funding.

Take off

Step 4

We'll work with you to design a full pilot project that includes appropriate ethical approval and evidence summaries.
Society 4.0

Society 4.0 reflects the societal implications of living with and adapting to an increasingly digital and connected world. Our Institute is exploring the positive change that can come from this. We hold an annual forum focused on Society 4.0, exploring People and Technology and current thinking around digitisation, new technologies and society.
"The work [with SIRI] informed our strategy on the future of humanitarian action as the evidence demonstrated the value of volunteering yet how vital it is that we also invest rapidly in new ways to support people and communities to act. We aim to continue to work with Swinburne and use the technique to inform our future work."

Penny Harrison , Director, Volunteering, Australian Red Cross
Our latest news
Using storytelling to reduce ageism in the community

A Swinburne-led project is using digital storytelling to prevent ageism, which can lead to elder abuse.

Monday 24 February 2020

Bushfire research at Swinburne

Research is underway to improve bushfire preparedness, response and recovery, and find innovative solutions to issues affecting communities across the count

Thursday 06 February 2020

Four-day working week movement gathers momentum

A shorter working week continues to gain favour says Alice Martin from the New Economics Foundation think tank, ahead of a public lecture at Swinburne.

Monday 14 October 2019

Analysis & Policy Observatory appoints new Director

Dr Brigid van Wanrooy has been appointed Director of Analysis & Policy Observatory, hosted at Swinburne.

Thursday 08 August 2019

Promoting humanitarian action in a digital world

A Swinburne and Red Cross collaboration is shedding new light on the forms and drivers of humanitarian behaviour.

Wednesday 31 July 2019
Find more news articles about the Social Innovation Research Institute. 
Upcoming events
Research

Achieving Social Connection & Community Resilience: Joining the dots between policy, practice, research, and community

The event presents the latest evidence from the Australian Research Council funded project 'Activating Social Connection', with a keynote from Hon. Dr Andrew Leigh MP. Speakers who are leaders in their fields will address practice and policy questions raised in the research and offer constructive, feasible actions for improvement.

Register now

(Achieving Social Connection & Community Resilience: Joining the dots between policy, practice, research, and community )

Research

What's the value of voice?

In this discussion, US-based Fulbright Scholar Valerie Jones will share her research exploring how voice-powered virtual assistants such as Google's Assistant or Amazon's Alexa might provide new opportunities for new ways of feeling connected, focusing on ageing adults. 

Register now

(What's the value of voice?)

Research

Kinship care: what's working, what isn't, and what's next?

This workshop will explore challenges experienced by kinship carers, emerging issues confronting kinship care, ways to improve policies and practices, as well as strategies for building community awareness.

Register now

(Kinship care: what's working, what isn't, and what's next?)
Our collaborating research centres
Discover our other research institutes
Subscribe to our mailing list
Keep up to date with the latest news and events from the Social Innovation Research Institute.
By signing up, you consent to MailChimp collecting your data, which is treated in accordance with Swinburne's
Privacy Statement
. You can unsubscribe at any time.
Contact the Social Innovation Research Institute