Best in Australia: Swinburne VET students win gold at WorldSkills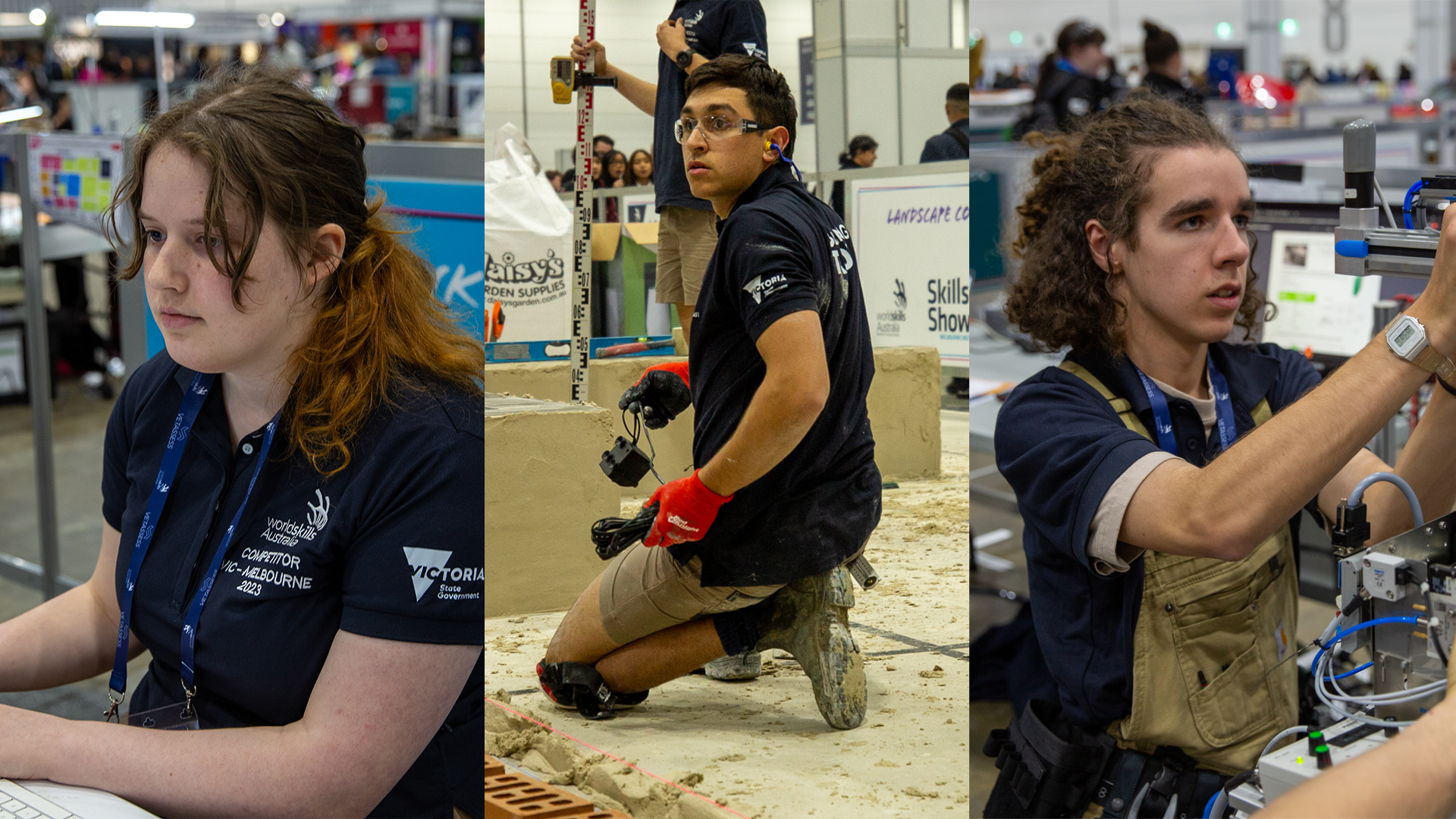 Nellie Holder (left) won the Graphic Design competition, Thomas Balint (middle) won Landscape Construction, and Will Vestergaard (right) won Mechatronics
In summary
Three Swinburne VET students won first place in the 2023 WorldSkills Australia National Championships and will go on to compete at the International WorldSkills Games in Lyon, France next year
Nellie Holder won the Graphic Design competition, Thomas Balint won Landscape Construction, and Will Vestergaard won Mechatronics and received the Tjerk Dusseldorp Best in Nation medal
Hamish Ridley and Michael Ritchie won silver in the Industry 4.0 competition
Three Swinburne Vocational Education and Training (VET) students won first place in the 2023 WorldSkills Australia National Championships and Skills Show this weekend and will go on to compete at the International WorldSkills Games in Lyon, France next year.
The excitement unfolded at the Melbourne Convention and Exhibition Centre over three days as selected regional contestants competed to showcase and benchmark their skills on the national stage, going head-to-head with their industry peers from around the country.
The WorldSkills National Championships are Australia's largest skills excellence competition. They take place every two years and feature over 500 young tradespeople competing across 60 skills.
A dozen Swinburne VET students represented the university in the 2023 competition across Landscape Construction, Visual Merchandising, Graphic Design, Additive Manufacturing, Industry 4.0, Mechatronics and Bricklaying.
"I am so very proud of our VET students, teachers, mentors and all those who supported this magnificent result," Madelyn Bolch, Pro Vice-Chancellor and Chief Executive Vocational Education shared.
"Worldskills gives our young people a unique opportunity to demonstrate their skills and talent...skills that drive the future of Australia. Our Gold winners now have the chance to compete in the International WorldSkills Games in Lyon, France in 2024! The Swinburne community is celebrating today!" Ms Bolch said.
Swinburne students showcase winning skills
The Landscape Construction competition required a jack of all trades approach from talented Swinburne student, Thomas Balint. He competed to deliver a project meeting requirements of the broad aspects of landscaping. Mr Balint's focus and preparation paid off as he took home first place!
Thomas Balint is studying a Certificate III in Landscape Construction. Landscape Construction involves modifying or creating green spaces, like gardens and parks and has many unique elements. Projects include building concrete, brick, block and stone structures and features, installing drainage systems, implementing paving and retaining wall projects and knowledge of plant culture and soil profiles.
Swinburne alum, Nellie Holder, had to apply her understanding of target audiences, markets and trends in the Graphic Design competition. She executed a challenging brief that covered all aspects of the technical, conceptual and production processes of graphic design. Ms Holder's creativity and attention to detail impressed the judges, earning her first place!
Ms Holder recently completed her Advanced Diploma of Graphic Design at Swinburne. Graphic Design is the visual communication of an idea or concept. Graphic Designers work with internal and external clients to develop the overall layout and production design for applications, such as advertisements, brochures, magazines, and reports.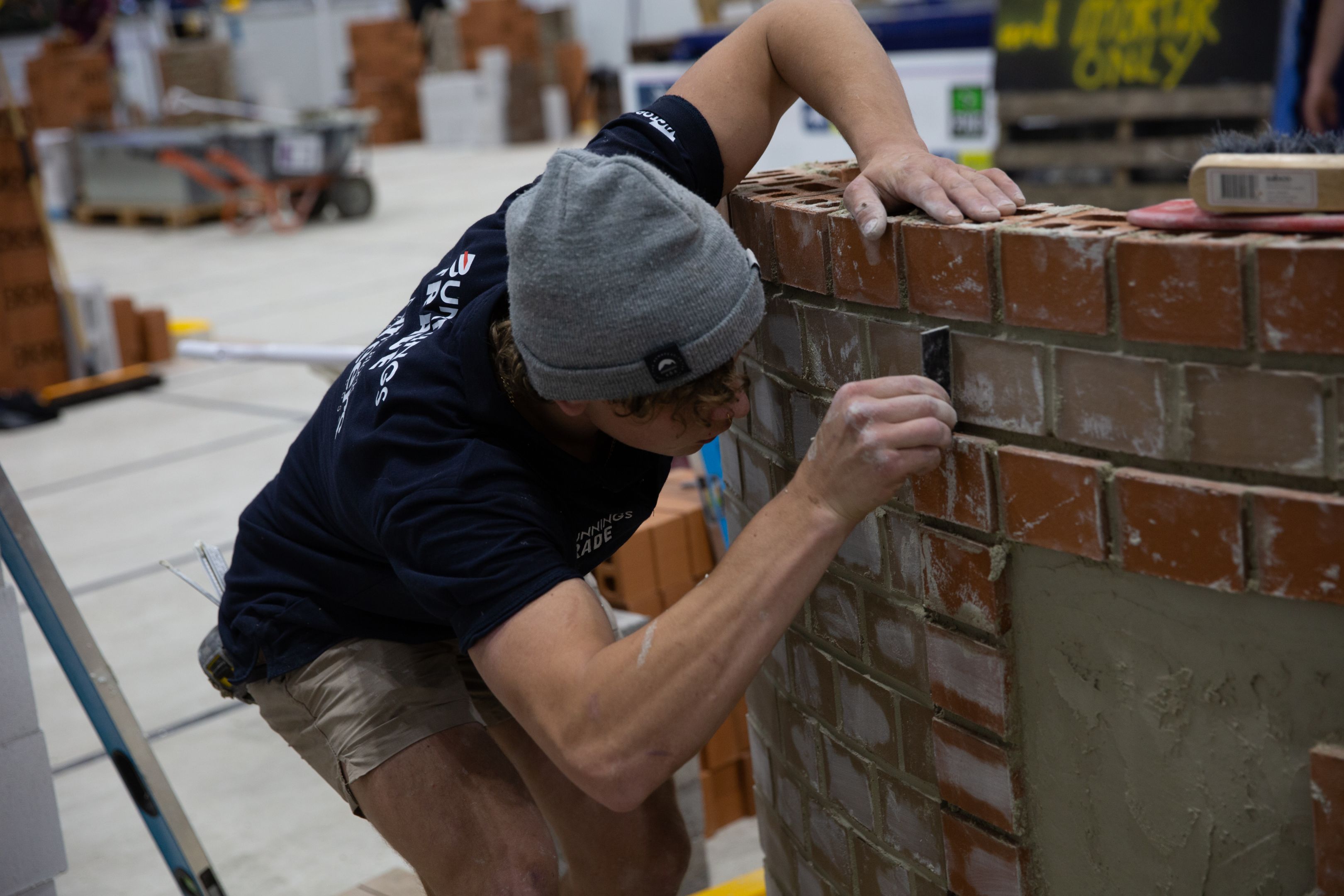 Blayde Djanko was the youngest competitor in the WorldSkills National Bricklaying contest
Swinburne student, Will Vestergaard, demonstrated his skills in technology and PLC Programming in the Mechatronics competition as he built a project consisting of several operations and maintained a simulated plant during the competition time. Mr Vestergaard won first place in the Mechatronics competition and was awarded the Tjerk Dusseldorp Best in Nation medal, for receiving the highest individual score.
Mechatronics involves working with constantly evolving technology in the Industrial Automation realm to solve technical problems and maintain automated mechanical equipment. They work alongside engineers and scientists, often assist in the research and development of production. Mr Vestergaard is studying an Advanced Diploma of Engineering Technology.
Swinburne students, Michael Ritchie, Hamish Ridley, Coby Vowels, and Kunj Desai competed in teams of two in the Industry 4.0 competition, as they tackled a challenging brief to modernise systems and processes with digital technologies.
After a competitive contest, Mr Ritchie and Mr Ridley were awarded second place.
Industry 4.0 connects the digital and physical worlds using technologies like machine-to-machine communication, artificial intelligence, machine learning, and sensor technologies. More and more Australian manufacturers are using digital technologies to modernise their systems and processes. Mr Ritchie, Mr Ridley, Mr Vowels and Mr Desai are currently completing their Advanced Diploma of Engineering Technology.
Valuable opportunities for emerging talent
WorldSkills Australia fosters career pathways for young Australians and provides valuable experience to vocational education students starting out in their careers.
Five additional students represented Swinburne in Additive Manufacturing, Bricklaying and Visual Merchandising.

Swinburne Additive Manufacturing students, Malory Heliotis and Tyron Lockwood, were challenged to transform industrial production to create lighter, stronger parts and systems. Malory Heliotis is currently studying an Advanced Diploma of Engineering Technology (Mechatronics Engineering Design) and Tyron Lockwood is studying Advanced Diploma of Engineering (Mechanical Engineering Design) at Swinburne. Additive Manufacturing is the process of creating a physical object by building it one layer at a time, like 3D printing. It is one of the fastest developing branches of engineering, due to the increased production speed and ability to produce complex shapes using less material than traditional manufacturing methods.
Blayde Djanko is currently completing his Certificate III in Bricklaying and Blocklaying at Swinburne and was the youngest competitor in the WorldSkills National Bricklaying contest. The Bricklaying competition required Mr Djanko to construct a project out of clay bricks and concrete masonry blocks, that met precise details and specifications. Bricklayers create brickwork and blockwork using clay and concrete masonry products. Their scope of work ranges from residential to commercial and includes constructing straight walls, ornamental walls, structural walls and non-load bearing walls.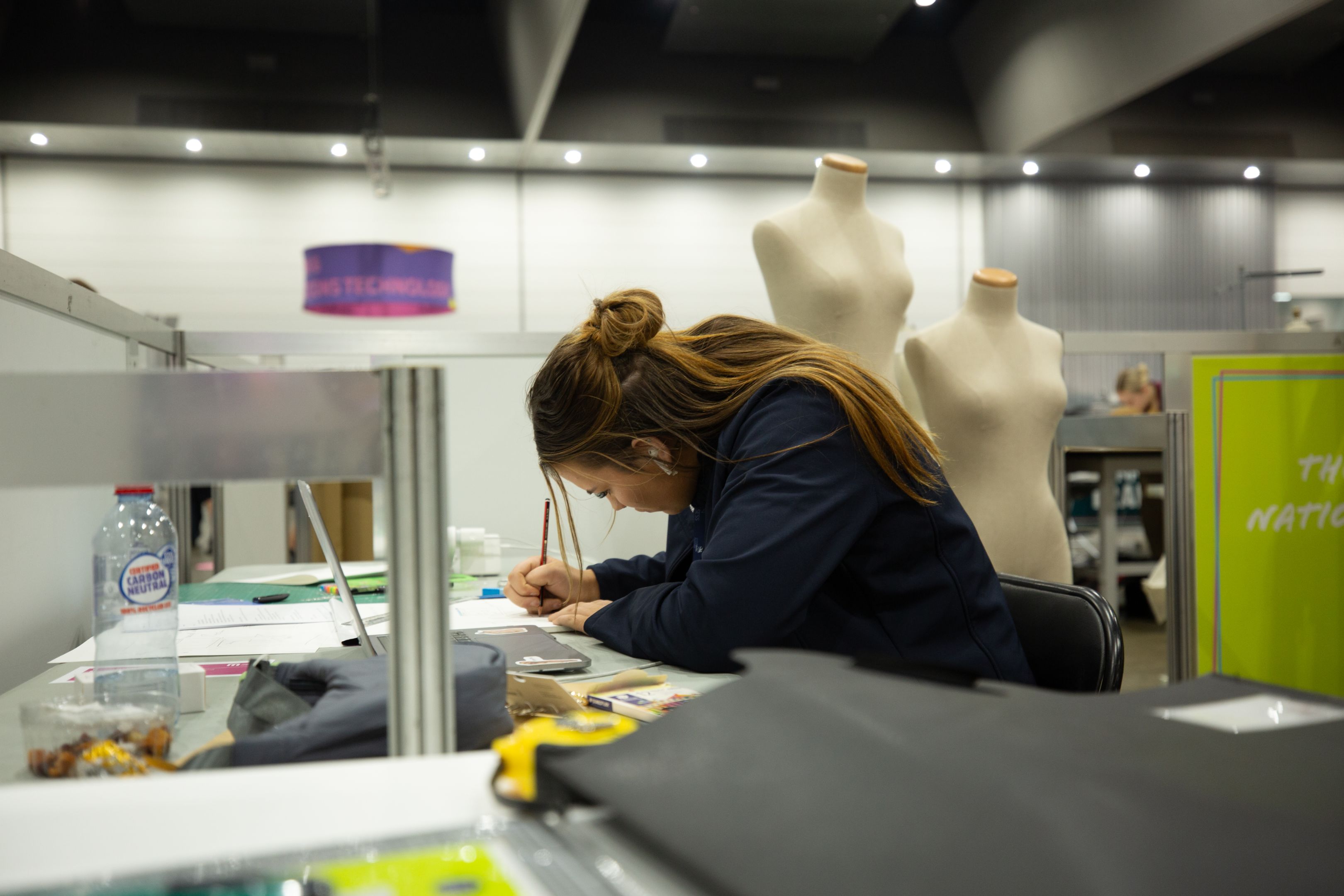 Kaitlyn Tullber competing in the Visual Merchandising competition
Swinburne students, Kaitlyn Tullber and Olivia Lacey competed in the Visual Merchandising competition where they were tested on their ability to apply different display elements and principles, their knowledge of design language and techniques for product presentation. Ms Tullber and Ms Lacey are currently completing a Diploma of Visual Merchandising. Visual merchandising plays a critical role in the culture and perception of a brand. Visual Merchandisers plan and install internal, window and fixed displays and have skills in prop construction, styling and working to an industry brief.
Mentoring the next generation
Belinda Smith is a Trainer in Swinburne University's Diploma of Visual Merchandising program, and judge in the WorldSkills 2023 National Championship.
Ms Smith believes the WorldSkills National Championship is a great opportunity for her Visual Merchandising students to develop skills that will serve them well in their professional careers, such as "paying a high level of attention to detail, creative thinking outside the square, developing unique original ideas for concepts, using innovative techniques to build props, self-management and working autonomously."
"I believe World Skills Competition can really empower students with many skills to be the best of the best in their field," said Ms Smith.
Related articles
Film and television
Student News

N'Ouiblez Jamais: a student film on the lived experiences of WWII

Produced by three Swinburne Film and TV students, French documentary film N'Oubilez Jamais is about the experiences of a young Jewish woman during WWII.

Friday 01 September 2023

Vice-Chancellor Professor Pascale Quester reappointed for second term

The Swinburne University of Technology Council has approved the reappointment of Vice-Chancellor and President, Professor Pascale Quester, for a second five-year term.

Monday 07 August 2023

Swinburne to help drive change in Victoria's mental health system

Swinburne is an academic partner within the Victorian Collaborative Centre for Mental Health and Wellbeing's Adult and Older Adult Best Practice Consortium.

Thursday 10 August 2023

Swinburne alum enables ten inaugural study abroad scholarships

The Giles Family Foundation Semester Exchange Grant provides generous financial support for students to study overseas for a semester, inspired by alum Michael Giles' own study abroad experiences.  

Monday 21 August 2023

Professor Laura-Anne Bull appointed Deputy Vice-Chancellor Education, Experience and Employability

Respected education leader Professor Laura-Anne Bull has been appointed Deputy Vice-Chancellor, Education, Experience and Employability at Swinburne University of Technology.

Wednesday 09 August 2023