PhD student goes to the 2023 UN Water Conference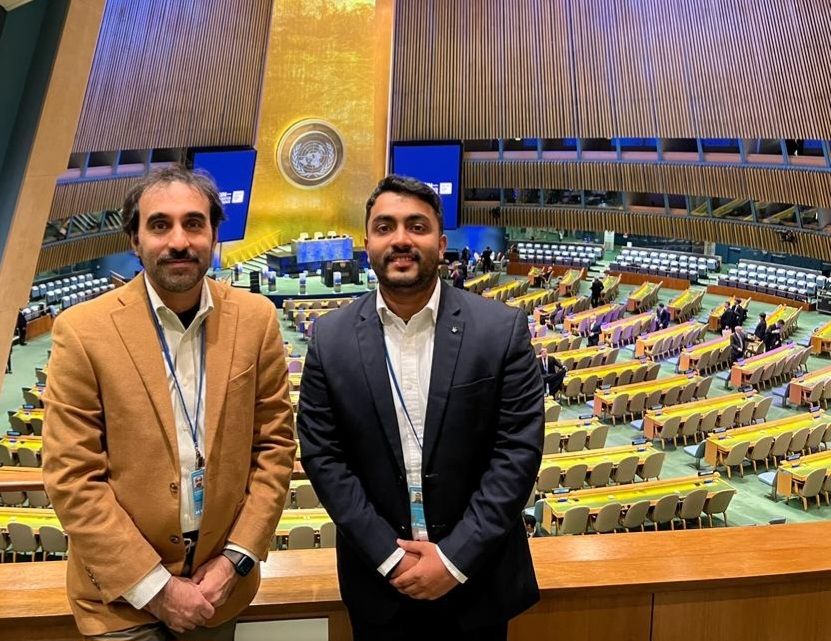 (Left to Right) Founders of Manhat, Dr Saeed Alhassan and Vishnu Pillai were invited to the UN Water Conference in New York.
In summary
PhD student Vishnu Pillai was invited to the 2023 UN Water Conference for his work in water sustainability solutions
Vishnu is co-founder of Manhat, a deep tech startup that focuses on natural water distillation
Manhat received special accreditation from the UN to attend the conference hosted in New York
School of Engineering PhD student Vishnu Pillai recently landed the prestigious opportunity to attend the 2023 UN Water Conference in New York, thanks to his pioneering work on water sustainability solutions.
Vishnu works with Swinburne academics Associate Professor Nishar Hameed, Professor Peter Kingshott and Dr Nisa Salim on an Australian Research Council-funded project on smart composites and says the team has been supportive of his entrepreneurial journey.
"Professor Nishar and the team proved incredibly supportive," he said.
"They provided me with the necessary flexibility to participate in this important event and their willingness to adjust schedules demonstrated their commitment to helping me further my education and professional development."
Creating a better water future
Vishnu is a co-founder of Manhat, a deep tech startup based in Abu Dhabi focusing on natural water distillation, alongside fellow founder Dr. Saeed Alhasan.
Manhat is tackling an issue they are witnessing firsthand in the MENA (Middle East and North Africa) region, where water scarcity is a real problem.
MENA is home to only 1% of the world's freshwater resources and, without consistent rain, MENA has been reliant on large-scale desalination plants which comes at an environmental cost. Waste from the process is often discharged into the sea, damaging marine ecosystems. There is also a huge carbon footprint from the burning of fossil fuels to power the high energy demands of the plants.
Manhat has developed a novel solution: floating desalination devices. Water is heated by the sun in a greenhouse structure; the water evaporates and forms water droplets that are collected by their device. The salt and minerals don't evaporate with the water, so it can be used in the ocean to produce fresh drinking water.
They have collaborated with Abu Dhabi ports to help test prototypes that harness the natural water cycle to collect desalinated water. Through their testing, they proved the devices could generate water with no electricity, brine, or carbon emission.
Developing their idea further, Manhat is now working on floating farms, where they can directly irrigate from their desalination device.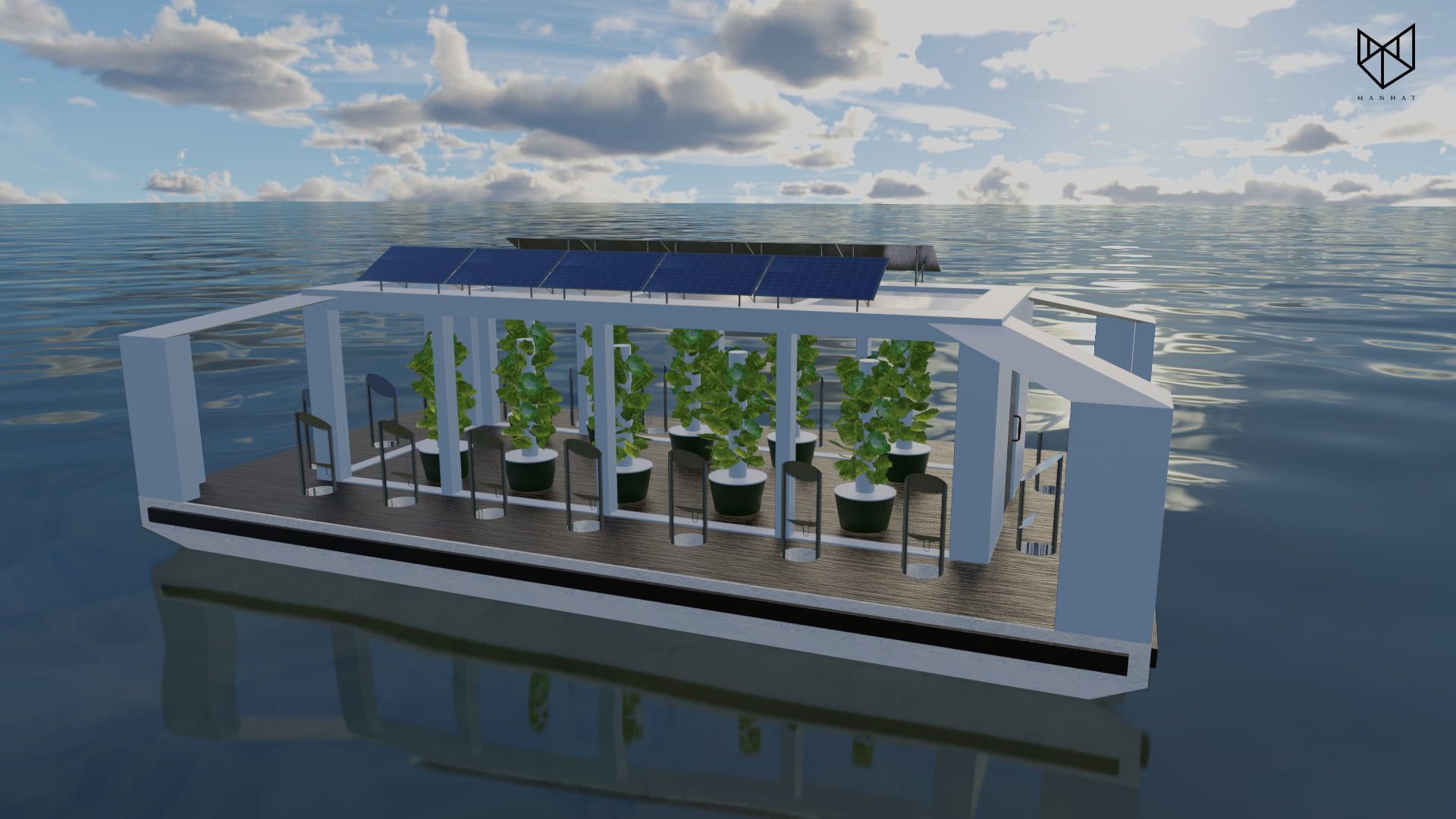 Harvesting the freshwater from lost evaporated water from open water surfaces, the floating farm will be irrigated immediately.
When he joined Manhat in 2020, Vishnu had the background in research but had to adapt quickly to operate a successful startup.
"I needed to learn first. I started learning from blogs, reading different publications, watching entrepreneurial videos on YouTube. I began to understand the importance of collaboration in the startup journey."
With patents for their technology approved across 18 different countries, including Australia, Manhat is striving for their solution to go global. Taking steps to establish its presence, Manhat has registered their first international office here in Victoria, in recognition of Australia's supportive ecosystem for innovation and entrepreneurship.
Invited to the UN
Vishnu and Dr. Alhasan had been reading the valuable reports that were published by the UN, but they never thought they would be a part of it. Seeing the UN had a special accreditation program, Vishnu applied and received an exciting email back.
"We received the special accreditation, and we are the only startup from the UAE to get this recognition, as well as being one of the two companies selected from the private sector – the other being a multi-billion-dollar company."
Whilst continuing his studies at Swinburne and projects on smart composites, Vishnu also looks ahead to the next steps for Manhat.
"We are currently focused on achieving our next significant milestone, which involves launching a pilot project for a floating farm. Establishing our office in Victoria enables us to collaborate closely with a diverse range of stakeholders and expedite our research and development endeavours." 
Related articles
New $5.2m supercomputer enhances high impact research around Australia

Swinburne University of Technology has launched its $5.2 million supercomputer that will produce groundbreaking space technology, medicine, and environmental research by researchers and partners across Australia. 

Monday 14 August 2023

Swinburne teaching the future of hydrogen

Swinburne University of Technology vocational educator Mark Taggart has been awarded the Victorian Gas Industry Teacher of the Year by Energy Safe Victoria (ESV) in recognition of his commitment to ensuring his students are best prepared for the future of the gas industry.  

Tuesday 18 July 2023

Collaboration the key to assistive technology design and manufacture

Swinburne University of Technology's Medical Technology Victoria (MedTechVic) is working with local industry and community groups to improve the design and manufacturing of fit-for-purpose assistive technology. 

Tuesday 18 July 2023

$5M awarded for Swinburne-led ARC Research Hub for Future Digital Manufacturing

Swinburne has been awarded $5 million to lead an ARC Research Hub for Future Digital Manufacturing, one of five new Industrial Transformation Research Hubs across the country.

Friday 28 July 2023

Swinburne professor saving decades of digital artefacts

Professor Melanie Swalwell has launched a new project to save years of historical digital content.

Thursday 22 June 2023