Co-designing assistive technologies with those living with disabilities
Swinburne PhD student Hana Philips recently got the opportunity to present her research to students from Rowville Secondary College
In summary
Swinburne PhD student Hana Philips is researching the use of a collaborative design processes in developing assistive technologies
Her research addresses the need to change the status quo within the assistive technology industry

Hana recently presented her research to a group of Year 7 students from Rowville Secondary College, who learned about the development and prototyping of enabling technology, products and services
Swinburne PhD student Hana Philips is looking to change the way assistive technologies are developed for individuals with lived experience of disability.
As a practicing Occupational Therapist with a background in adult rehabilitation, Hana saw that clients using assistive technologies were unhappy with the impact the technology was having on their lives. She also realised that many assistive technologies do not meet the needs of clients and that there is an issue regarding lack of access and abandonment.
While Hana's original research focused on a specific assistive technology and assessing the level of customisation required, her topic pivoted after she realised the complexity of the issue at hand.
Her renewed research focus is on how powerful collaborative design processes can be and addresses the need to change the status quo within the assistive technology industry.
"My research explores potential ways that collaborative design methodologies, such as participatory design and co-design can be applied to assistive technologies, while also identifying and evaluating potential benefits to individuals with lived experience of disability," Hana says.
Inspiring the next gen
Hana recently presented her research to a group of Year 7 students from Rowville Secondary College, who attended a Swinburne tour of MedTechVic's LivingAT Facility.
The LivingAT Facility is Australia's first fully accessible space utilised for development and prototyping of enabling technology, products and services. The globally connected space has been carefully crafted to allow individuals living with a disability to fully contribute to the creative problem-solving process and help create meaningful outcomes.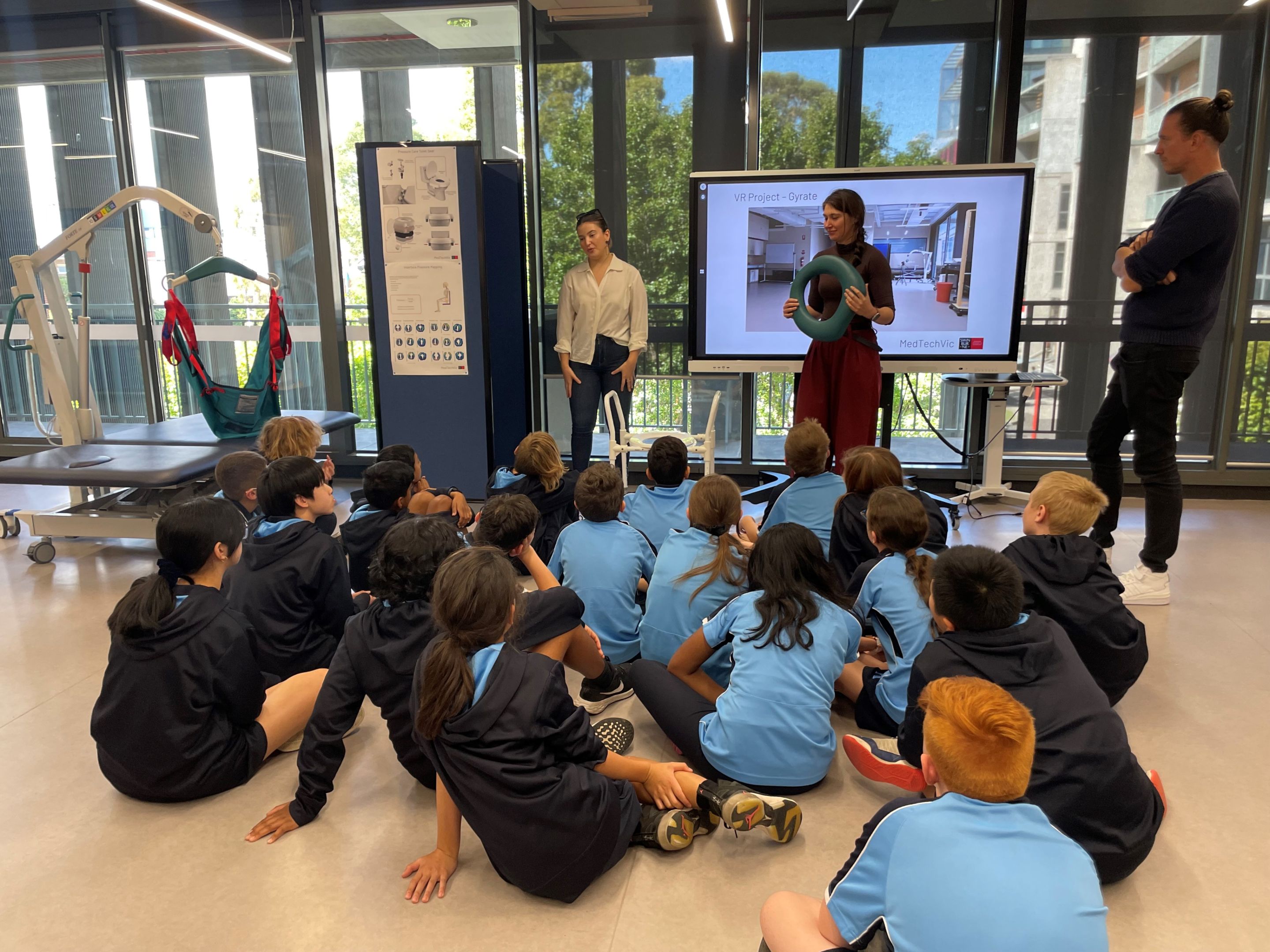 Hana Philips, along with other members of the MedTechVic team were on hand to provide students from Rowville Secondary College with a tour of the LivingAT facility.
The students from Rowville Secondary College are currently learning about the world of disability and how design and implementation of medical and assistive technology can play a significant role in enhancing the lives of individuals who need it most.
Hana's presentation emphasised the importance of collaboration in designing medical and assistive technology, with a focus on involving people with lived experiences of disability in the design process.
"I was so impressed by the maturity that the students had in talking about some very complex spaces and their potential implications," Hana says.
"It was amazing to see young students using these concepts and putting them into practice. It was also great to see how excited they were about using design thinking, and how close it is to what we are doing at Swinburne. Hopefully we will see some of the students in a few years at Swinburne.'
Director of MedTechVic, Professor Rachael McDonald says that teaching young people the importance of medical and assistive technology co-creation is integral to building an inclusive future for all.
"It is fantastic to see secondary school students immersed in enabling technologies and understanding the integral role co-creation plays in delivering life-changing solutions for people with lived disability experience," she says.
Related articles
Swinburne to help drive change in Victoria's mental health system

Swinburne is an academic partner within the Victorian Collaborative Centre for Mental Health and Wellbeing's Adult and Older Adult Best Practice Consortium.

Thursday 10 August 2023

New $5.2m supercomputer enhances high impact research around Australia

Swinburne University of Technology has launched its $5.2 million supercomputer that will produce groundbreaking space technology, medicine, and environmental research by researchers and partners across Australia. 

Monday 14 August 2023

Do I have the right bicycle helmet and how can I tell if it's any good? A bike helmet researcher explains

If you ride a bike and want to cut your risk of traumatic head injury, you should wear a helmet. A major Australian review of 40 different studies and 64,000 injured cyclists worldwide showed wearing a bicycle helmet reduces the risk of serious head injury by nearly 70%.

Monday 07 August 2023

If your kid is home sick from school, is unlimited screen time OK?

Managing a child's screen time when they're home sick from school has taken on a whole new dimension. For many parents, the challenge of juggling work and caring for a sick child at home inevitably leads to more TV or iPad. The digital world offers a convenient solution to keep children occupied and, to an extent, comforted.

Wednesday 19 July 2023

Collaboration the key to assistive technology design and manufacture

Swinburne University of Technology's Medical Technology Victoria (MedTechVic) is working with local industry and community groups to improve the design and manufacturing of fit-for-purpose assistive technology. 

Tuesday 18 July 2023