Vic set to boost medtech under program launched at Swinburne
Dr Shanti Krishnan leads a tour of Swinburne's Factory of the Future at the launch of the Victorian Government's new Health-led Manufacturing Innovation Program
In summary
Minister for Innovation, Medical Research and the Digital Economy, The Hon. Jaala Pulford, launched the Victorian Government's new Health-led Manufacturing Innovation Program at Swinburne's Hawthorn campus
Two key medtech pilot programs have been awarded $400,000 in grants
Australia's first Assistive Technology Living Facility (LivingAT) and a series of medtech workshops have been supported
Two Swinburne University of Technology MedTechVic initiatives will be boosted by the Victorian Government's new Health-led Manufacturing Innovation Program (HMIP), designed to deliver more clinically focused medtech manufacturing activity in the state, and create more jobs in the sector.
Minister for Innovation, Medical Research and the Digital Economy, The Hon. Jaala Pulford, launched the program today at Swinburne's Factory of the Future, part of the university's MedTechVic research hub, launched last year with $6.7 million from the Victorian Higher Education State Investment Fund.
Deputy Vice-Chancellor, Research, Professor Karen Hapgood, said the HMIP, which has awarded $400,000 in grants for two pilot programs, would help create new approaches, methods and operational models.
Pictured left to right: Nanette Fitzgerald, Professor Rachael McDonald, Minister Jaala Pulford, Shelley Jackson and Professor Karen Hapgood
LivingAT Health Innovation Challenge
"Our MedTechVic team created Australia's first Assistive Technology Living Facility (LivingAT), and this new funding will help amplify the exciting innovation work that is happening at LivingAT," said Professor Hapgood.
"We want to ensure assistive technologies can be manufactured in Victoria to help support people to fully participate in society, live their lives independently and support their health.
"We are grateful to the Victorian Government for its support in bringing this important initiative to life."
MedTechVic Director Professor Rachael McDonald explained that people would be at the centre of the LivingAT pilot.
"The pilot will feature facilitated workshops to help medtech researchers, industry and end users create viable and manufacturable solutions. The funding will be vital for further project development and user-group testing," said Professor McDonald.
"We know that a considerable amount of assistive and enabling technologies are abandoned each year, at enormous social and economic cost. By including end-users at every stage of the design and development process, people living with disabilities will be an integral part of finding solutions, whilst creating local industries".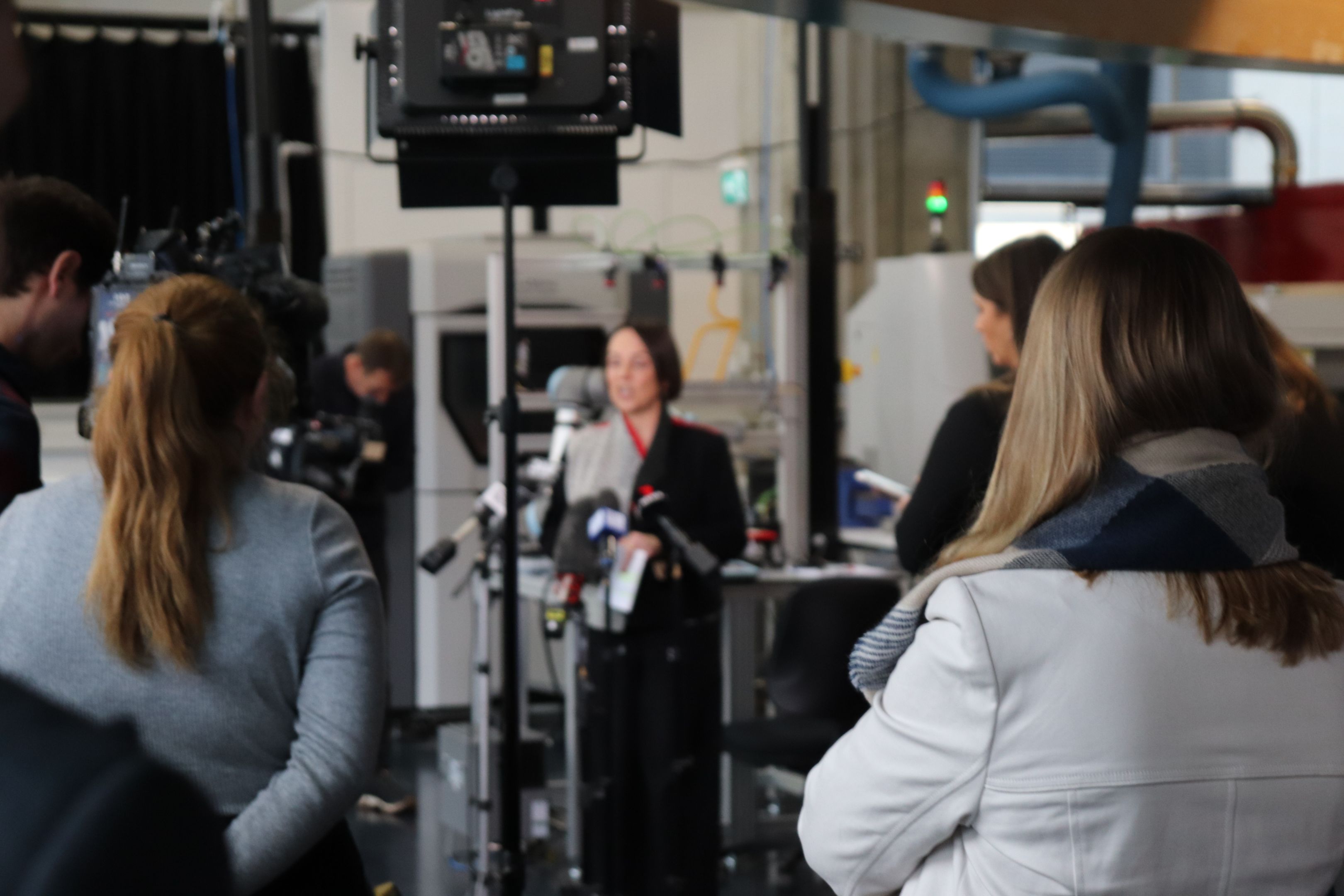 Minister Pulford and Director of Swinburne's MedTechVic spoke to media about the future of medtech innovation in Victoria
Aikenhead Centre for Medical Design (ACMD) – Medtech Challenge Workshops
The second pilot program will deliver a series of workshops, which will bring together clinicians with scientists and engineers, developers, manufacturers and investors to address clinical needs and market opportunities.

"By strengthening collaboration between clinicians and industry, ACMD will improve the likelihood that new products meet the needs of the medical system, and that the medical system has the means to communicate its needs to the product development and manufacturing businesses," said Professor McDonald.
Speaking at the launch, Minister Pulford said the Government's Australian Medtech Manufacturing Centre (AMMC) is Victoria's medtech manufacturing growth catalyst, working with the sector to identify and realise opportunities to grow medtech manufacturing in Victoria.
"This program is backing the brightest minds to innovate and design new technologies that will assist people with disabilities or health conditions such as diabetes and osteoarthritis to live more independently and improve their quality of life.
"We're supporting local production of health and medtech products to create new local jobs, reduce our reliance on overseas suppliers and protect us from supply chain disruptions."
Swinburne was an early supporter of the work of AMMC and was one of the first organisations to be consulted in its establishment.
Find out how MedTechVic is designing a co-created medical and assistive technology ecosystem to build an inclusive future for Victoria.
Related articles
Swinburne to help drive change in Victoria's mental health system

Swinburne is an academic partner within the Victorian Collaborative Centre for Mental Health and Wellbeing's Adult and Older Adult Best Practice Consortium.

Thursday 10 August 2023

New $5.2m supercomputer enhances high impact research around Australia

Swinburne University of Technology has launched its $5.2 million supercomputer that will produce groundbreaking space technology, medicine, and environmental research by researchers and partners across Australia. 

Monday 14 August 2023

Do I have the right bicycle helmet and how can I tell if it's any good? A bike helmet researcher explains

If you ride a bike and want to cut your risk of traumatic head injury, you should wear a helmet. A major Australian review of 40 different studies and 64,000 injured cyclists worldwide showed wearing a bicycle helmet reduces the risk of serious head injury by nearly 70%.

Monday 07 August 2023

If your kid is home sick from school, is unlimited screen time OK?

Managing a child's screen time when they're home sick from school has taken on a whole new dimension. For many parents, the challenge of juggling work and caring for a sick child at home inevitably leads to more TV or iPad. The digital world offers a convenient solution to keep children occupied and, to an extent, comforted.

Wednesday 19 July 2023

Collaboration the key to assistive technology design and manufacture

Swinburne University of Technology's Medical Technology Victoria (MedTechVic) is working with local industry and community groups to improve the design and manufacturing of fit-for-purpose assistive technology. 

Tuesday 18 July 2023