Improving the identification and treatment of mental health issues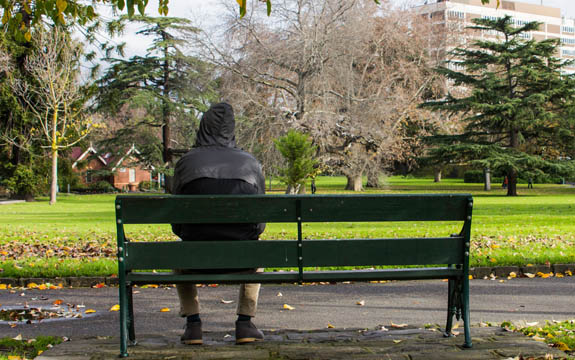 This partnership will see Readiness investing $2 million to support the centre's mental health research
In summary
Swinburne's Centre for Mental Health is partnering with Readiness Pty Ltd to improve the identification and treatment of mental health issues in Australia
Readiness is a start-up that provides businesses tools to support he mental health and wellbeing of their employees
As part of the partnership, ten research work packages have been developed in response to industry needs
Readiness, a start-up who provides businesses tools to support the mental health and wellbeing of employees is investing $2 million to support the CMH's commitment to mental health research.
"We are excited to sign this research partnership agreement with Readiness," says Director of the Centre, Professor Greg Murray and Associate Professor Eva Kyndt, who are Swinburne's leaders of the Readiness partnership.
"This partnership will accelerate the development of and provide a scientific foundation for Readiness' innovative mental health and wellbeing monitoring package, which is already being used in businesses, sports clubs and schools," Professor Murray adds.
Translating mental health research into the real world
Readiness Pty Ltd is an organisation that aims to make a difference to the mental health and wellbeing of Australians, headed by businessman Gerry Ryan OAM who is Chairman and owner of the company.
As part of the partnership, a number of research work packages have been developed. These packages take a holistic view at tools used to measure the mental health and wellbeing levels of individuals, as well as the efficacy of Readiness tools in identifying these mental health issues whilst building leadership capacity and professional development around identifying mental health issues within organisations.
Steering research and innovation
During these unprecedented times, there has been an increased focus on the mental health and wellbeing of Australians, along with organisations recognising their responsibility for employee wellbeing. "Partnering with Swinburne's Centre for Mental Health will pave the way for further research in this area and serve as a check and balance for our existing wellbeing packages, ultimately helping us drive innovation in mental health assessment and remediation," says Gerry.
"For Swinburne, the partnership will enable the CMH to generate new and important knowledge about mental health monitoring in these settings and significantly increase our capacity in this research area. We are confident that the initial two-year agreement will develop into a long-term strategic research partnership that will benefit the mental health and wellbeing of the Australian population," Professor Murray explains.
Improving the mental health of Australians
Swinburne's Centre for Mental Health aims to improve the mental health of individuals through research and development, training, policy and the dissemination of health information. The centre focuses on gaining a better understanding of the mechanisms involved in severe mental health disorders and improve the lives of people with severe mental health illness using research to understand the mechanisms that underlie these conditions, as well as developing and implementing novel treatments to help these individuals.
Related articles
Swinburne neuropsychologist named prestigious Isaac Schweitzer Awardee

Professor Susan Rossell has been awarded the prestigious Isaac Schweitzer by Biological Psychiatry for 2020.

Thursday 20 August 2020

Improving the identification and treatment of mental health issues

The Centre for Mental Health will be partnering with Readiness Pty Ltd to improve the identification and treatment of mental health issues

Monday 03 August 2020

Understanding how pandemic conditions affects individuals with mood disorders

A study has found that individuals with a mood disorder reported higher levels of depression, anxiety and stress during the early stages of COVID-19

Tuesday 07 July 2020

Investigating the effects of COVID-19 on eating and exercise behaviours

Swinburne researchers have conducted a study investigating how COVID-19 has affected the eating and exercise behaviours of Australians

Tuesday 09 June 2020

Top tips to maintain a healthy routine

Professor Greg Murray has co-developed a how-to guide for maintaining a healthy routine while social distancing

Thursday 02 April 2020