'Boundless opportunities' put Swinburne law graduate on top
In Summary
Swinburne Law School graduate Jake Boudsocq is a Graduate Lawyer at leading law firm Allens
He is the recipient of the 2020 Victorian Supreme Court Prize for outstanding academic excellence
Jake says opportunities within and beyond the classroom kick-started his career and prepared him for practice
Jake Boudsocq came to Swinburne determined to become a psychologist.
However, a two-year university hiatus owning and running a small business in the hospitality industry inspired Jake to pivot his study plans.
Fast-forward five years and Jake is a Swinburne Law School graduate with a double degree in Law and Arts, majoring in psychology. He now works at leading law firm, Allens.
He is also the recipient of a 2020 Supreme Court Prize – a prestigious award honouring the top student at each of Victoria's eight law schools.
"This award is a personal and professional honour," says Jake. "It represents years of focus on my studies and professional development goals…it is also recognition of the support I received, without which I would not have been able to achieve this success."
Supreme Court Chief Justice Anne Ferguson says this achievement will set the recipients apart in their careers.
"Judging by the calibre of graduates, we know the legal fraternity and the Victorian community are in good hands," she says.
Boundless opportunities
Jake enrolled in the first student cohort of Swinburne Law School in 2015, confident of the opportunities it would bring.
An 'unprecedented level of access' to the high-quality teaching staff made Swinburne an 'attractive choice', says Jake.
"I had the privilege of forming meaningful connections with the law school's diverse staff that have been personally and professionally enriching, leading to internship opportunities, supporting references, and hours of patient listening and sage guidance."
The smaller cohort size also meant greater access to extracurricular activities – opportunities Jake made the most of.
In 2016 he was president of the Swinburne Students' Law Society which connected him to his university community and professionals in the legal industry.
He also represented Swinburne in mooting (simulated court proceedings) competitions, which at its peak even saw him travelling to the University of Oxford in 2018 where his team placed ninth against the world's top teams.
"I always felt supported to volunteer for new opportunities and become engaged in the life of the law school," says Jake.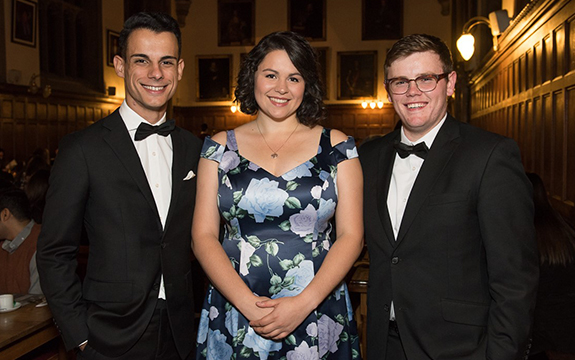 Jake was part of the Swinburne Mooting Team selected to compete against the world's top teams at the University of Oxford in the UK.

Enriching experiences
Swinburne Law School's focus on international learning gave Jake further experiences abroad. 
In 2017, Jake was part of a study tour to Indonesia which explored the country's unique legal system and history, culture and governance models. 
"This study tour invigorated my commitment to do more study and work in the region…and allowed me to view the law in context, beyond the classroom."
It was also this experience that helped Jake secure one of 120 prestigious New Colombo Plan Scholarships in 2017.
This scholarship took Jake back to Indonesia for a semester of legal studies (with some language learning on the side), to Singapore and China for legal internships, and to various parts of the Indo-Pacific for diplomatic events hosted by the Australian Government and foreign consulates.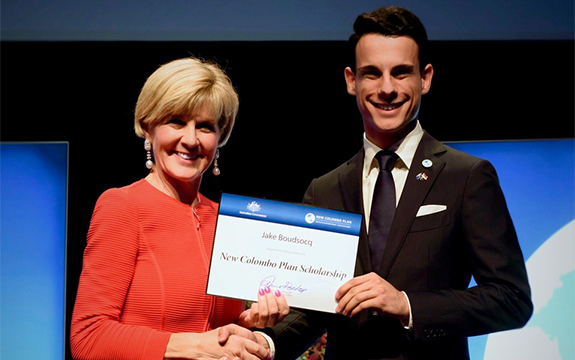 Jake was one of 120 Australian undegraduate students to receive a New Colombo Plan Scholarship, which enables study, internships or mentorships in participating Indo-Pacific nations.
Prepared for practice
Swinburne's practical, skills-based and experiential learning approach kick-started Jake's career from his first year.
"Not only were my subjects taught with legal practice in mind, but I was required to complete a minimum of three 20-day legal internships as part of my degree," says Jake.
He undertook several clerkships in top-tier Australian law firms (including Allens) and completed internships in different contexts including in-house legal roles, volunteer roles, and even as a barrister's research assistant.
"These practical experiences enabled me to develop an understanding of how the law applied to real problems…and make accessible support networks on which I could rely for advice when career planning."
Swinburne Law School's focus on technology and information law inspired Jake to pursue a graduate lawyer role at Allens, a market-leading law firm.
"I'm now doing my first of two year-long rotations starting in Allens' restructuring and insolvency team…even as a junior my days are dynamic and my work plan changes daily."
New, dynamic and forward-thinking
As the newest law school in Victoria, Swinburne is uniquely positioned to support its ambitious students with virtually boundless opportunities, says Jake.
"From support within the classroom, through small and involved tutorials, to entering moot competitions, and sourcing valuable internship opportunities, Swinburne Law School provides diverse professional development opportunities to its students."
Swinburne's focus on the future of law is Jake's final pitch to prospective students.
"You will graduate with practical experience and an appreciation for the way technology is creating innovative and novel opportunities for graduates to apply their legal training in unconventional ways."