Swinburne team guide helps transition mental health consultations online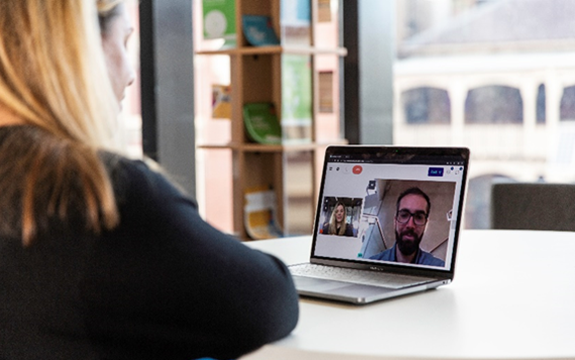 In Summary
Mental Health Online (MHO) has developed how-to guides to help mental health practitioners transition to video consultations
'Telehealth' can be used as an alternative to face-to-face consultations in response to the COVID-19 outbreak
MHO is a Swinburne initiative funded by the Commonwealth Department of Health that offers free self-help and therapy-assisted programs for a range of mental health concerns
Swinburne's Mental Health Online (MHO) team has developed how-to guides for mental health practitioners to set up for remote consultations, which could help with efforts to stop and slow the spread of COVID-19. This initiative, A Practical Guide to Video Mental Health Consultation will equip more mental health practitioners across the country to conduct their consultations via video conference, also known as 'telehealth'.
Providing mental health support online
MHO is a digital mental health service run by the National eTherapy Centre (NeTC), funded by the Commonwealth Department of Health. MHO offers self-guided and therapist supported self-management programs for people with a variety of mental health problems including anxiety disorders and depression. As part of Swinburne University of Technology, NeTC also provides training for the next generation of digitally-capable practitioners, as well as contributing to the development and trialling of intervention methods. 
"We have expertise in remote therapy and over the years, our team has significantly broadened its work in the field to include virtual reality, online video consultation-based therapy and tablet computer-based interventions that integrate with face-to-face healthcare," says NeTC Director, Associate Professor Neil Thomas.
Telehealth as an alternative to face-to-face consultations
"We are anticipating that telehealth will be increasingly relied upon as an alternative to face-to-face consultations in the coming weeks to contain the spread of COVID-19," Associate Professor Thomas explains.
"This means that mental health providers are having to rapidly implement an unfamiliar way of working and often have concerns about best practice in how they should do this work," he adds.
The resources produced by MHO will be made freely available to mental health services as well as independent practices to help them make use of existing video conferencing systems to conduct their consultations.
"One challenge we foresee in this transition is that patients might struggle at having the personal, face-to-face aspects of their consultations replaced with video conferencing," Associate Professor Thomas says. "However, we are making sure that we give practitioners the tools to enable these sessions to progress smoothly and without disruptions."