Facilitating the 30-minute city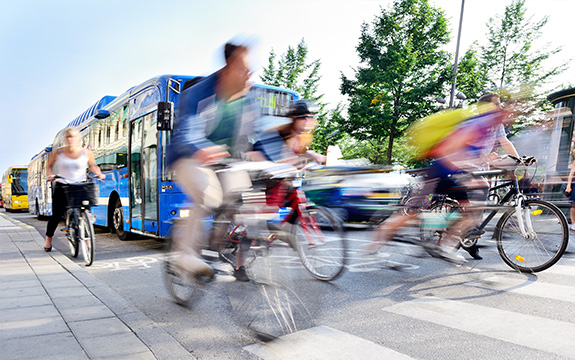 In Summary
Research suggests that people cannot afford to spend more than one hour travelling per day
Swinburne's Future Mobility Urban Program researches the challenge of the 30-minute commute
Innovations and digital disruptions in the transport sector continue to introduce new opportunities to enhance the travel experience for millions of people in our cities. These opportunities have been made possible by business models that offer new mobility services (e.g. ride-hailing, car-sharing and bike-sharing) to provide flexible options to meet our travel needs.
Looking forward, the 2020s are predicted to be a decade of transformation for urban mobility. There are at least six forces expected to further disrupt the urban mobility landscape: self-driving vehicles, the sharing economy, vehicle electrification, mobile computing, the Internet of Things (IoT) and blockchain technologies. Each of these trends is significant on its own, but the convergence of their disruptive forces is what will create real value and provide innovations, enhancing the travel experience for people and businesses every day.
Challenges and opportunities
Central to the success of emerging and new mobility solutions is rigorous research that addresses 21st century global transport challenges such as rapid urban population growth, congestion, energy provision, climate change and health. Major policy, behavioural and technological changes are required to deliver substantial improvements. As the list of 'next big things' grows longer, local and state governments will find it harder to identify technologies that could unleash disruptive changes and impact the growth and performance of our cities, suburbs and precincts.
Many questions remain. How will the future of transport look with autonomous on-demand shared electric vehicles? Will personal ownership of cars decline, giving way to Uber-style fleet-operated shared vehicles? Will mobility be offered as a subscription service? Will we be allowed to drive in the future? And are we edging closer to a utopian vision of "zero accidents, zero emissions, and zero car ownership"? What kind of future do we want in a highly automated world? And how do we prepare for the transport transformation?
At Swinburne, our Future Urban Mobility Program is guided by a vision to create safe and resilient mobility solutions that enhance access to services, places and economic opportunities, and improve the quality of life for citizens. Our teams of specialists undertake practical research that separates hype from reality and informs decision-making about the value of technology-led interventions. We achieve this through the development and evaluation of methodologies and solutions that provide practical policy pathways with the likelihood of greatest impact in achieving sustainable urban mobility.
Research focus
Our work is motivated by the important and urgent need to realise 30-minute cities. Research suggests that, on average, people around the world cannot afford to spend more than one hour travelling per day - 30 minutes in the morning and 30 minutes in the evening. This is becoming increasingly challenging for populations in cities affected by congestion and urban sprawl and may require new solutions that prioritise land use and transport integration, densification of cities, and promotion of more sustainable modes of transport.
Our research addresses these challenges. It is focused on making cities accessible to their populations by connecting the social, physical, economic, and information infrastructures. Our research is primarily industry-focused and recognises the role of digital innovations and disruptive technologies in addressing the modern-day demands of urban living in the world's large and fast-growing cities. Our team's research pathways centre on integrated land-use and transport policies, investments in dense and human scale cities, transit-oriented and pedestrian-oriented developments, optimised road network use, pricing policy instruments, urban freight and supply chain logistics, public transport and active travel options. We also recognise the role of digital innovations and disruptive technologies in addressing the modern-day demands of urban living and travel in the world's large and fast-growing cities.
Key research areas
Our Future Urban Mobility Program is staffed by a multi-disciplinary research team that specialises in intelligent transport systems, modelling and simulation, and disruptive mobility. It includes specialists from transport planning, transport engineering, computer science, information technology, data science, machine learning and artificial intelligence. The team also includes researchers with specialisation in logistics and urban freight, electric vehicles, software innovations, and active transport and health. It works on a range of topics related to major challenges facing urban transport in our cities. The program is divided into three streams, each with four themes and sub-components:
Stream 1: Intelligent transport systems and infrastructure
Research in this stream is focused on reducing the need for new transport infrastructure through better utilisation of existing assets and enhancing personal mobility. The capability in this area includes the development of algorithms for network operations, data-driven management and control of transport systems. It also includes researching new sensors and communication systems, smart infrastructure and asset management systems.
The four themes in this stream are:
Network management and control
Smart infrastructure and asset management
Technology, sensors, communications and control systems
Enhanced personal mobility
Stream 2: Transport modelling and traffic simulation
In this stream, our research is focused on evaluating the impacts of mobility solutions using state of the art transport and traffic modelling methodologies. These include a hierarchy of modelling capabilities ranging from strategic through to operational mesoscopic and microscopic traffic simulation and agent-based modelling.  Key facilities that support our research include Swinburne's Virtual Smart Mobility Research Facility, which has sophisticated modelling platforms to assess the economic, social and environmental attractiveness of mobility solutions and land-use transport interactions.
The four themes under this stream are:
Large scale optimisation
Gamification
Predictive intelligence, traffic forecasting, AI and data analytics
Agent-based traffic simulation and behavioural modelling
Stream 3:  Disruptive mobility
Research in this stream is focused on shaping the future directions of urban mobility through rigorous research that evaluates emerging and new modes of transport and business models. This includes estimation of transport demands for new solutions and scenarios of potential shifts in supply and demand. Our research looks beyond the hype and pinpoints the long-term effects of new technologies. It also develops rigorous but flexible evaluation frameworks and governance systems for agile and outcome-focused regulations which facilitate and encourage transport innovations.
The four themes under this stream are:
Emerging modes of transport and autonomous shared mobility
Urban air mobility
Low and zero emissions urban transport solutions
End-to-end freight solutions
Research directions and routes to inform future urban mobility policies
The transport sector is facing rapid changes in an unpredictable, fast-paced ecosystem. Outdated mobility solutions are being challenged by empowered citizens who expect more from our transport systems. This requires fresh thinking and new approaches to meet people's demands for travel with ease and seamless integration. Many technologies on the horizon offer opportunities that could transform transport, and infrastructure investment and operation. There will be disruptions to established norms, and there will be broad societal challenges. Through rigorous research that determines when and how to take advantage of these technologies, stakeholders at all levels can benefit from swift improvements to urban mobility for future cities.
By Professor Hussein Dia, FASCE FIEAust FITE, Deputy Director and Program Leader, Future Urban Mobility, Smart Cities Research Institute.