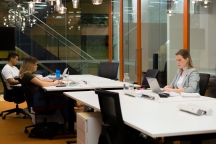 Learn exactly what you need to upskill, advance your career, or pursue your passion with a degree-level single unit course – and bank a resume-bolstering certificate while you're at it. Quick and focussed, a university certificate is your way of gaining university-level learning that's relevant to you.
What is a university certificate?
When you want to empower yourself with university-level skills – without the long-term commitment of a degree – university certificates are your best move. The courses are single units lifted directly from Swinburne's world-class degrees.
Zero in on exactly what you need to upskill or advance your career and gain the most relevant, up-to-date learning in one swift move. As a bite-sized university-level course, university certificates are a short-term achievement unto themselves and can provide credit towards a degree, too. Think of it as your way of pole-vaulting into university study and quickly nabbing a certificate while you're there – and having the option to power through to a full degree (with 12.5cp credit points already achieved), if you find that's what you want. The choice is yours.
What are the benefits?
Bank a resume-bolstering certificate, recognising your initiative, learning and drive. You'll be giving your network the heads-up that you've gained specific and up-to-date knowledge from an internationally recognised university.
Plus, you'll get a taste test for a full degree course. Along with 12.5cp credit points. That means you can potentially use your university certificate as credit towards a Swinburne University degree, helping you graduate faster.
Browse our courses
Business Tools and New Horizons
Digital Marketing, Social Media and Content production
Innovation and Entrepreneurship
Leading Future Ways of Working

Cut to your future, faster, and gain the skills and knowledge you need to advance your career with a university certificate. Apply via the links in the table above or via the relevant unit page, being sure to hit the blue link at the top of the page.
FAQs
A short course is unassessed and an opportunity to get some hands-on experience in whatever you're curious about. University certificates, on the other hand, are assessed, providing you with a Swinburne certificate to recognise your achievement and drive, along with 12.5cp credit points. They're also a chance to launch directly into university-level study.
University certificate start times can vary. Be sure to check your course page to see when your particular course will kick off.
First, click on the units (listed in the table above) to explore the courses available and decide which you'd like to enrol in. Then, return to the courses table, find your chosen course, and hit the 'Apply Now' link next to it. Alternatively, you can enrol via the unit page itself – be sure to click the blue link at the top of the page to ensure that you're enrolling in a university certificate (not the red Apply Now button on the side of the page). Either way, congratulations – you're on your way to commencing university study that's specifically relevant to you.
Keep on exploring
Short courses

Browse course units
Interested but not sure which option is best for you?
If you have any questions, please don't hesitate to contact Swinburne Admissions. Give us a call on 1300 794 628.
Call us