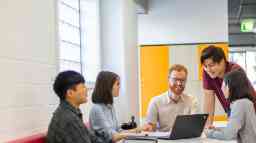 Are you an international student wanting to improve your English language skills? Learn from qualified teachers at the university rated 5 stars for student satisfaction. Grow your confidence, broaden your horizons, and prepare for direct entry to our bachelor or master degrees.
What is ELICOS?
English Language Intensive Courses for Overseas Students (ELICOS) at Swinburne are a great way to improve your English skills while meeting new people, getting to know a new city, and preparing for further study.
Why study at Swinburne?
Learn at one of the top 70 universities in the Asia Pacific for student satisfaction¹
Extensive student support and free English testing
A maximum of 18 students per class
Study in one of the world's most liveable cities
See the full ELICOS course details
"I came to Swinburne to study English because I want to upskill. My classes are friendly and kind and full of activity. I love my teachers and my classmates."

Hikari , 20, student from Japan
Meet your teachers
Ashley Starford

Teacher, ELICOS

"I like my classes to be warm and welcome spaces where students feel comfortable communicating with each other.

I've always been interested in the international community. Sharing my knowledge of English is a profound way for me to liaise with the global community."

Charlotte Petitprez

Teacher, ELICOS

"I always share my background with my students and hope they can be inspired by my journey: I am a non-native speaker, but I am completely bi-lingual in English and French.

I want to show them that if you put your mind to something, everything is possible."

Jarrod Tebb

Teacher, ELICOS

"We have a very supportive group of teachers who really care about the students and the work that they do.

I grew up in Melbourne and studied three languages at school: French, German, and Indonesian. I've been teaching English for 15 years."
Support at Swinburne University of Technology
Swinburne College Student Hub and online support community
Free Wi-Fi, Microsoft Office 365, and Adobe Creative Cloud
Custom designed curriculum with access to student lounge and self-study area
Counselling and support services
Explore campus in VR
Take a virtual tour of where you'll be learning – explore the campus, classrooms, and some of our Swinburne student experiences – all in 360°.
On desktop, click and drag around the screen to explore the 360° video. On mobile, tilt your device to explore the 360° video.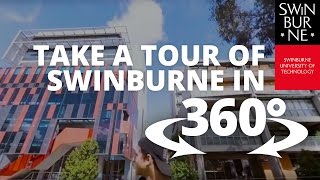 Take a tour of Swinburne in 360°
¹Times Higher Education Asia Pacific University Ranking 2019.
Discover more about Swinburne
Download a course guide

Thinking of studying with us? Whether you are a domestic or an international student, we have a wide range of courses to suit your needs. Simply complete the form to download your course guide.

Accommodation

Discover all your student housing options at Swinburne, including on-campus accommodation, shared apartments, studio apartments and short-term accommodation.

Clubs and student organisations

Join a club or student organisation and meet like-minded people, explore new hobbies and get involved with the issues you care about. Find your people.

Your safety at Swinburne

We've worked hard to create a safe, accepting and vibrant community to ensure Swinburne remains a place where everyone can feel confident and respected – and we aim to keep it that way.

Sport and fitness

At Swinburne, we provide opportunities for you to get involved in a variety of sports clubs and fitness opportunities. As an enrolled student, you're eligible to join in on the fun and get active!
Keep on exploring
Getting around Melbourne

Melbourne has many accessible public transport options and bike paths – making it easy to go exploring after class.

Things to do in Melbourne

Melbourne is proudly multicultural and no matter where you're from, you can feel safe and welcome here. There are fun things to do in Melbourne every day, with free events all the time.

Things to do in Hawthorn

Our Hawthorn campus boasts state-of-the-art learning facilities. Surrounded by an array of cafés, restaurants, bars, boutiques, and bookshops on Glenferrie Road, our Hawthorn campus provides the perfect environment for an amazing student lifestyle.

Bringing your family to Melbourne

We know how important family is and how having them nearby can help you settle into Melbourne life. We've put together some things for you to consider when making the decision.

Money, living costs and banking in Australia

Living in Melbourne can be expensive at times, but there are ways to manage your money and make it go further.
Ready to apply?
If you want to study an English Language Intensive Course at Swinburne, get started by learning how to submit your online application.

Learn how to apply