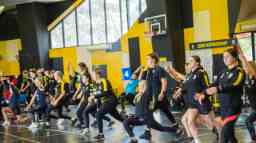 Swinburne offers a wide range of diplomas across a huge variety of study areas, including business, engineering, IT, health and more, many of which provide a direct pathway to a degree.
What is a diploma?
A diploma is a great option if you're focused on gaining knowledge you can apply directly to the workplace.
With many paths to entry and the opportunity to move into a bachelor degree or further study, diplomas are perfect for you if you're looking to start a professional career — or to continue learning.
The difference between a diploma and a degree is the length of study and opportunities for extended learning.
Pathways to a degree
UniLink diplomas are designed to provide an alternative pathway to a bachelor degree. Essentially, they take the place of first year university, and can connect directly to the second year of a degree. They're great if you don't get the ATAR you need for your preferred course, or if you're looking for a little more support to help you learn.
Browse our unilink diploma courses
Diplomas and advanced diplomas

These diplomas focus on practical skills and technical expertise to prepare you for work in your chosen area. Depending on your diploma there may be opportunities to move into a bachelor degree. The difference between a diploma and an advanced diploma is the extra study time to undertake more advanced learning.
Are you looking for information on graduate diplomas?
Although a graduate diploma (Grad Dip) sounds similar to a diploma, they are different. You can only study a graduate diploma if you have previously studied a bachelor degree or have relevant work experience. Head over to our Master Degree page for more information if this sounds like you.
Guaranteed industry immersion for vocational students
Our Future of Work Lab provides a tech-enabled digital and physical collaborative platform where you can experience the world of work alongside industry, teachers and peers.
Find out more