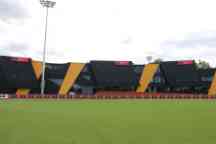 Sport has become more than a game, more than a culture — it's a multi-billion dollar global industry.
A career in sports media means understanding the game from what's happening before the bounce in boardrooms, to what happens on the field.
In our sports media courses you'll gain real, practical skills and actually work within the industry with direct access to our industry partners.
Our sports journalism courses teach you how to create a sports program, perfect your sound recording skills, and craft your interviewing techniques.
After attending our classes, you'll leave with the skills, confidence, and the connections to kick off a successful career in sports media or journalism. Browse our courses to find detailed course information, application dates, entry requirements, fees, subjects, ATAR calculator and more.
Got questions about starting in 2024?
What's the course structure? How will I fit study into my life? Is there any financial assistance that applies to me?
Whether you're looking at business or design, postgrad or trades – there's November event for you.
An undergraduate degree must be about more than just knowledge – it's also job readiness, professional experience and access to further opportunities.
We partner with leading Australian and global organisations to offer students authentic workplace experiences. Our degrees can include placements, internships, industry-linked projects, study tours and more. This is your chance to work on real-life projects, solve day-to-day challenges in your field and gain the professional skills that put knowledge into practice. You'll build invaluable skills and confidence, knowing you have what it takes to land a job by graduation or even before.
Download a course guide

Thinking of studying with us? Whether you are a domestic or an international student, we have a wide range of courses to suit your needs. Simply complete the form to download your course guide.

Book a one-on-one

Not sure which course is right for you? No stress. Book a one-on-one appointment with a course adviser for help with your application or advice on your study options.

Course planner

Begin planning the units you will study in your course.

Work Integrated Learning

Swinburne guarantees real industry experience in all our bachelor degrees in the form of placements, internships or industry-linked projects.