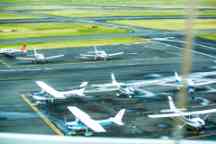 The thrill of taking to the skies is one of humankind's greatest achievements. A hundred years ago we barely knew how. Now we depend on it every day.
Explore our Aviation courses
Why study Aviation with us?
More than 25 years leading aviation education
Get experience working on real world industry project every year of your degree
Choose Aviation at Swinburne
Our studies give you a full scientific and cultural understanding of aviation and the aviation industry, including:
Aerodynamics
Airline law and operations
Safety
Business strategy and more.
Best of all, you'll be flying from week 1 - our Flight School gives you hands-on experience in actual and simulated environments, so you'll be ready to take to the skies.
For those who prefer their feet firmly on the ground, our Bachelor of Aviation Management can have you working in the operations centre, management, compliance network analysis and beyond.
Browse Swinburne's industry leading Aviation courses to find detailed course information including application dates, fees, entry requirements, course subjects, ATAR calculator and more.
How to become a pilot

Few jobs conjure up the feeling of intrigue, adventure and romance like becoming a pilot. Discover how to become a pilot and earn your wings through Swinburne.
Qantas Future Pilot Program
We have partnered with Qantas to offer a new pilot pathway program that qualifies Swinburne's flight crew of the future to fly with QantasLink, the airline's regional brand.
©
Learn to fly with CAE at one of Australia's busiest airports – Moorabbin.
AIR Pass accelerating success for aerospace innovation

Swinburne University's AIR Pass program has accelerated Dovetail's development and progressed its goal of accelerating decarbonisation in the aviation sector.

Wednesday 16 August 2023

New AIR Hub partnership driving innovation and industry engagement

Swinburne's Aerostructures Innovation Research (AIR) Hub has partnered with the Australian Mathematical Sciences Institute's (ASMI's) APR.Intern program to increase uptake in aerospace PhD internship projects by mid 2024. 

Thursday 27 April 2023