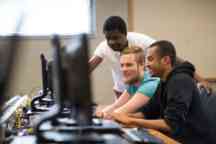 We understand that studying is just one part of your life. That's why we offer flexible course structures and delivery so you can organise your study around work and life commitments.
Course structure
Depending on your course, you may be able to make it as specialised or as general as you'd like. This means you could choose subjects that relate to a specific area you want to focus on, or add subjects from a completely different study area.

Generally, a three-year bachelor degree has 24 units. Your course breakdown can include:
Core units (mandatory to complete your course)
Units that complete a major (this is your main study area)
Course options
Course options let you study a new area, or explore other areas that aren't directly related to your degree so you can graduate with expertise in multiple areas. You can incorporate optional units into your course to study a co-major, minors, advanced minors or one-off, elective units.
©
Course delivery
At Swinburne, we understand that not everyone is able to study full-time. That's why we offer a range of flexible study options that allow you to maintain your responsibilities while studying to achieve your academic goals. Choose the study option that fits with your lifestyle:
Full-time study means your course structure includes the maximum number of units per year.
Part-time study means you study less than the maximum number of units per year.
Many of our courses offer part-time study — it's a great way to manage your work, life and study all at once.
Online courses offer the same subject material, with the same core course breakdown, but in an online setting. You'll access lectures and materials online, and participate in discussions in online forums with teachers and other students.
Online study allows you to choose where and when you study, at a pace that suits you, with flexibility around your other commitments. Many of our courses are available completely online, while others combine it with on-campus delivery.

Learn more
Some postgraduate and vocational courses are taught on weekends or evenings in block delivery. This means they're taught over a shorter period of time, in day and half-day blocks usually on Fridays, Saturdays, or after hours. This allows you to study around your other commitments and complete your course faster.
A fast-track course gives you the same qualifications as a 'regular course', but is completed in a shorter amount of time. Designed for those who already have business or industry experience, you'll participate in workshops, with assessments based on the workplace.
Some vocational courses are taught in a workplace training environment or with a combination of campus and workplace learning.
Learn more
Studying outside of the normal semesters in our summer and winter terms gives you greater flexibility to fit your study around your other commitments or finish your course sooner.

Learn more
Bootcamps are intensive postgraduate courses that are taught in quick sprints to complete your qualification in a short period of time. Co-created with industry, you will learn industry-relevant, employability-enhancing skills to get the best of both industry integrated learning and theory.
Plus, you'll work on projects direct from our industry partners and be part of industry-run masterclasses. You'll graduate with hands-on and practical skills as well as an accredited postgraduate qualification required for the next step in your career.
Studying a Swinburne course outside of Australia can be a great option if you wish to study in your home country. We also offer courses taught at our campus in Sarawak, Malaysia that offers a unique experience.
Learn more
Study at Swinburne and make the most of university life. Our campuses are vibrant communities with state-of-the art facilities, clubs to join and great places to visit, dine and socialise.
Learn more
Got questions about starting in 2024?
What's the course structure? How will I fit study into my life? Is there any financial assistance that applies to me?
Whether you're looking at business or design, postgrad or trades – there's November event for you.
Alternative pathways
Everyone comes to university from a different place. You may be a school graduate, or a PAVE graduate, or currently working and looking for a complete career change. That's why we offer multiple pathways to a degree.
Pathway planner

Associate degrees and UniLink diplomas can help you if your ATAR is just below the score you need for direct entry to your preferred course. Think of it as taking a slightly different route to the same destination.

Transferring to Swinburne from other universities

Receive credit for units completed in other courses at other institutions. Check out our credit calculator to see how much credit you may be awarded.

Returning to study

If you want to retrain for a promotion or career change, we understand the challenges you may face when you come back to uni and return to study. That's why we offer additional services for non-school leavers that can make your study life easier.
Study the course that's right for you