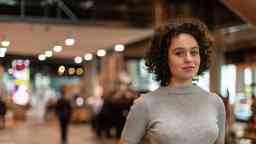 Placements and internships
Build your talent pipeline with Swinburne's next generation of creative, innovative and adaptable thinkers and doers through our Work Integrated Learning and employment programs, including placements, internships, industry-linked projects and more.
Access Next Generation Talent
When you host a Swinburne student, you add value to your organisation. They'll offer fresh insights, support you and your team on projects and give your current employees opportunities to develop their leadership skills.
Build your program with us
One-size doesn't fit all. Achieve your unique set of business goals by co-creating a placement, internship of industry-linked program with us. If you don't require a tailored solution, we also offer set programs.
Recruit our next gen grads
With the world demanding a new kind of graduate – for whom tech is first nature and learning and innovating is constant – Swinburne is nurturing next gen thinkers and doers now. Embed Swinburne talent in your organisation.
Talk to us about joining the thousands of organisations, from start-ups to multinationals, who've co-created their programs and accessed next gen talent through our Work Integrated Learning and employment programs.
Contact employers@swinburne.edu.au to find out how we can work together.
Ways to work with our students
Other placement opportunities
From scholarship and volunteer to accreditation placements — organisations can collaborate and partner with us to take on a Swinburne student in many ways.

Scholarship placements
Your organisation can host a Swinburne student as part of a scholarship placement. We offer two specialist and select-entry scholarship programs to high-achieving students that include two compulsory 20-week placements.
The Bachelor of Business Information Technology (Professional) and Bachelor of Accounting and Information Systems (Professional) offer a unique undergraduate scholarship program.
Students spend 40 weeks (or two 20-week periods) gaining direct industry experience by working with our industry partners. Students receive an industry-funded scholarship totalling approximately A$40,000, which is paid over the duration of the course.
Talk to us about hosting a scholarship placement student: employers@swinburne.edu.au
Volunteer placements

If you're a not-for-profit organisation with an upcoming event or project you need volunteers for, we can connect you with our students through our Student Life Volunteering Program.
To find out more, email the volunteer placements team at volunteer@swinburne.edu.au.
Accreditation placements

Every year our students studying education, engineering, health and law seek placement opportunities as part of their degree. Enhance your reputation as an employer of choice and access a steady pipeline of talent.

Find out how you can work with our Accreditation Placement students.

Partner stories
Rural Northwest Health

Dr Kaye Knight describes the unique work experiences that students receive at RNH.

Melbourne Water

Jarrod Mitchell explains how the professional placements program is developing the next generation of engineers.

City of Yarra

Peter Moran describes the civil engineer professional placement program at the City of Yarra.

Cobalt Design

Steve Martinuzzo describes how placement students integrate with the workplace and transform into potential long-term employees.

Partner Stories

Browse some of our industry partners that benefit from hosting students through work placements or internships.
Hosting a student with disabilities?
If your placement or internship student has a disability, we can provide guidance and help you make reasonable adjustments and support you in becoming a disability confident recruiter.
Find out more how Swinburne can assist your organisation. 
Learn more
Apprenticeships and traineeships

Make Swinburne your trusted training partner and enjoy the benefits of working alongside an institution that has been delivering high-quality vocational courses for more than a century.

Employ a student or graduate

Enhance your organisations profile among our next generation talent. Employ a Swinburne student or graduate.
Interested in working with our students?