The National Centre for Reconciliation Practice explores the opportunities and challenges relating to the Australian reconciliation journey, looking at Indigenous and non-Indigenous peoples' connections with reconciliation, through a rich program of engagement, outreach, education and research activities.
The National Centre builds on Swinburne's strong history of national academic and industry leadership in reconciliation. We were the first university to attain an Elevate Reconciliation Action Plan (RAP) and are currently on our second Elevate RAP. We co-organised the inaugural National RAP Conference, and co-signed, with 13 other Elevate RAP organisations, a declaration of support for the Uluru Statement from the Heart.
©
Our vision

Advance national industry, community and academic understandings of reconciliation and help lead national systemic change.
Our unique, multidisciplinary capabilities in reconciliation
Engage with industry, community, academia and governments
Undertake education, research, engagement and outreach activities
Utilise technology-based approaches
Reconciliation at Swinburne
The National Centre for Reconciliation Practice leads the development and implementation of Swinburne's Elevate Reconciliation Action Plan.
Our research
The National Centre for Reconciliation Practice has four interrelated program themes:

Cultural Safety (Lead: Dr Sadie Heckenberg)

Focuses on the area of culturally safe engagements with Indigenous peoples.

Indigenous Rights

Explores historical and contemporary Indigenous rights and resistance, nationally and internationally.
Indigenous Knowledges (Lead: Dr Andrew Peters)
Explores applications of Indigenous Knowledges in contemporary societies.

Reconciliation Movements

Focuses on the Australian and international reconciliation movements.
Our people
Our people come from a range of disciplines, and academic, industry and community settings, and include research fellows, affiliates and industry fellows.

Did you know?
Swinburne also has the Moondani Toombadool Centre that is committed to institutional transformation where Aboriginal and Torres Strait Islander self-determination and knowledges are the foundations on which Swinburne leads educational change.
Find out more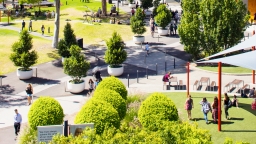 Engaging with Reconciliation and Truth-telling Seminar
Engaging with Reconciliation and Truth-telling
A seminar on reconciliation and truth-telling and how the new National Centre for Reconciliation Practice will engage with these concepts.
Speakers: Professor Andrew Gunstone and Ian Hamm
Date: 1 June 2021
Our partners
The Centre collaborates with a number of external partners, including:
Aboriginal and Torres Strait Islander communities and organisations
Reconciliation Australia
Governments
Industry partners
Other universities

The Centre also works closely with the Moondani Toombadool Centre.
"Racism infects all else": McAvoy's powerful words at Barak Wonga

Tony McAvoy SC's oration looked at the continued impact of colonialism, the prospects for an Indigenous Voice to Parliament, and how racism impacts us all.

Monday 12 December 2022

Supporting future student success with Clontarf Academy

After disruptions from COVID made social connections tough in 2020 and 2021, Jett Charles is one of thousands of high school students in Victoria looking ahead to a brighter future.

Friday 09 December 2022

Creating connection and supporting success for Indigenous students

Indigenous student advisor at the Moondani Toombadool Centre, Rachael Maxwell, says that education and experience go hand in hand.

Friday 28 October 2022

Aboriginal partnership improving child care and career outcomes

Specially-tailored training qualifications delivered by Swinburne are empowering child and family workers to provide improved support for Aboriginal and Torres Strait Islander families.

Wednesday 19 October 2022

New on-campus café to support Indigenous training and employment

Swinburne's Hawthorn campus is home to social enterprise cafe Co-Ground, which is now open to staff, students and members of the public

Monday 08 August 2022

Swinburne launches Australian-first reconciliation centre

The National Centre for Reconciliation Practice will lead national academic, industry and community understandings of reconciliation, and help drive systemic change.

Thursday 02 June 2022
About 'Gathering Knowledge' by Arbup Ash Peters
This painting, which is shown as the banner, depicts the continuous cycle of footprints on a never-ending journey travelling around Swinburne's campuses, which are located on Wurundjeri land.
The painting also shows meetings or gatherings that involve many people and Elders from Aboriginal and Torres Strait Islander communities. The colours used in the painting are aligned to the corporate colours of Swinburne. The use of earthy ochre in the background, as well as yellow and black throughout gives a sense of the culture of Wurundjeri people while also reflecting the Aboriginal flag.
Arbup Ash Peters is a Wurundjeri/Taungurong Man, local artist and direct descendant of Coranderrk.
Sign up to our newsletter
Subscribe to our mailing list to receive the latest updates and news from the National Centre for Reconciliation Practice.
By signing up, you consent to MailChimp collecting your data, which is treated in accordance with Swinburne's
Privacy Statement
. You can unsubscribe at any time.
Contact the National Centre for Reconciliation Practice