Swinburne stories | Challengers
Completed a Graduate Diploma of Computer Simulation in 1980 and founded the Judith Kinnear Student Travel Scholarship
Judith Kinnear was a senior lecturer in biology at Melbourne State College in the late 1970s when she bought her first personal computer. The early technology was somewhat of a novelty and the salesman helpfully advised Judith hers would be handy for storing recipes.
Judith, a self-taught software designer and a lover of cats, had already written CATLAB, a computer program on cat genetics for her students. She wanted to ensure her understanding of the mathematics she was using to represent the biological processes in the program were valid, so she applied to enrol in Swinburne's Graduate Diploma of Computer Simulation.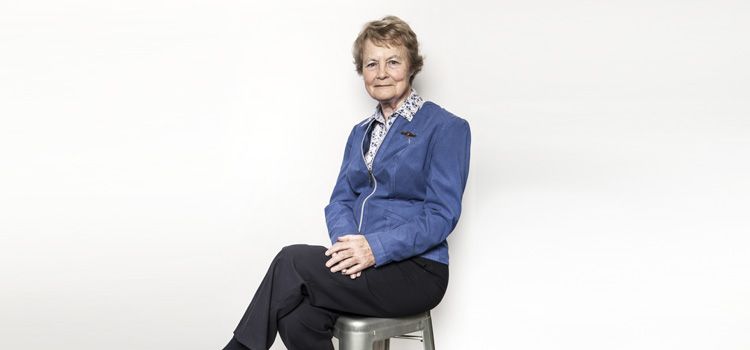 ©
Dr Judith Kinnear
An introduction to computer modelling
Swinburne initially knocked her back. 'They said I didn't have an appropriate mathematical background,' Judith recalls with a smile. 'I wrote to say that I had done mathematics as part of my undergraduate science degree, that I had used mathematics in my PhD research and that I had done statistics as part of my education degree. (Judith has a PhD in genetics from The University of Melbourne and Bachelor of Education from La Trobe University.) So, happily, they let me in.'
"It was a friendly and supportive atmosphere."
The course, designed for people working in the computer industry, provided a rigorous and challenging introduction to the techniques of computer modelling. Judith talked her lifelong friend and fellow biologist Marjory Martin into attending the night classes with her (they went on to write the VCE textbooks Nature of Biology 1 and 2, now in their sixth editions). Judith and Marjory were the only two women in the class. 'It was a friendly and supportive atmosphere,' Judith says.
She received her graduate diploma in 1980. Although she had worked out how to write CATLAB on her own, she says the course gave her the confidence and an extended skill base to write further simulation programs, which were published in the United States.
Expanding into the United States
A leading science educator from the US, Dr Vincent Lunetta, a Penn State Professor of Curriculum and Instruction who had seen CATLAB in action during a visit to Melbourne State College, persuaded Judith to investigate the United States market. Judith had been asked to entertain Dr Lunetta. 'So I took him to the computer lab where the students were using the program. He was really interested and said he had not seen anything like it.'
What made CATLAB unique, she says, was that she knew 'the genetics backwards' — and how to write a sound computer program. As a rule, early educational computer programs did not have sophisticated discipline content. CATLAB enabled students to simulate crosses of street cats of any coat colour — black, ginger, tortoiseshell or grey — and of any pattern. They could then cross their selected cats and see on-screen litters of stylised coloured kittens. The aim was to challenge students to choose variables, gather and interpret data, formulate hypotheses and draw conclusions.
"Women often tend to underplay their strengths and undersell themselves."
CATLAB and other programs written by Judith, including BIRDBREED, a simulation based on colour inheritance in budgerigars, and Gene Machine, a simulation of techniques of DNA manipulations, went on to win educational prizes in the United States. But if Dr Lunetta hadn't encouraged her, the programs may not have left Australia. 'Women often tend to underplay their strengths and undersell themselves,' Judith says. 'They may too quickly rule themselves out, for example, from applying for promotion.'
Leading the way for women in management
Judith went on to become the first female vice-chancellor in New Zealand, at Massey University, moving across from The University of Sydney where she had been a deputy vice-chancellor. These positions followed her roles as foundation dean of the Faculty of Health Sciences at The University of Sydney and as principal of Cumberland College.
In Victoria she had been head of the School of Biological Sciences at Lincoln Institute. Lincoln voluntarily merged with La Trobe University in 1988 and Judith became chairwoman and director of studies in the Department of Human Biosciences.
"I have moved into positions where I was one of the first — or one of the early women in a managerial role."
'I like to think I have made a positive difference in any place I have worked,' Judith says. 'I have moved into positions where I was one of the first — or one of the early women in a managerial role. People can respect you for your teaching ability, or your research, but there is always the question in their minds: "Can she run a department, or a school, or a faculty, or a university?"
Judith's career demonstrates that she was able to prove her value as an administrator. As a pioneer, she had few examples to follow, and had to find her own way. 'My life has been full of serendipity, of people strongly encouraging me to apply for positions,' she says. 'I look back and I think I have had a rewarding career. Certainly, my time at Swinburne was among the major factors that shaped my career.'
"My time at Swinburne was among the major factors that shaped my career."
When she was an undergraduate at The University of Melbourne 'a reasonable number of women' were enrolled in science, Judith says. She excelled, winning the Baldwin Spencer prize and a Margaret Cato scholarship. She went on to postgraduate studies, but most of the other women in science did not progress with her. Judith realised an academic career was possible, but for her that involved making a difficult choice. 'I had divorced parents and a reasonably unhappy childhood. I thought if my marriage was to succeed it would need to be a full-time commitment … So I turned down the love of my life.' Her sister took a different path, marrying at 18 and having five children. 'I get a lot of pleasure from my nieces and nephews and my great-nieces and great-nephews,' Judith says.
Supporting others to achieve their education goals
Judith's connection to Swinburne was reignited in the late '90s by Bruce McDonald from the alumni development program. Judith says she had chosen Swinburne in the late '70s because of its 'strong links to industry'. She admires how the university has maintained its commitment 'to industry and to industry-relevant courses'. 'Swinburne is carving out its own niche and building depth within that niche,' she says.
Judith began donating to Swinburne because of its youth as an institution and because she wanted to support its values. In 2014 she established the Judith Kinnear Student Travel Scholarship, a $5,000 annual award to help a postgraduate student in the Faculty of Science, Engineering and Technology attend an academic conference. As a former postgraduate student herself she says, 'I got so much out of the opportunity to go to international conferences.'
"I got so much out of the opportunity to go to international conferences."
Swinburne administers the prize and Judith has the opportunity to meet the winner at the presentation night, which she finds 'very rewarding.' Swinburne awarded Judith an honorary doctorate to honour her significant career and contributions to science and higher education.
'An interesting example of epigenetics'
These days, Judith's connections include the Australian Ballet and Opera Australia, the Melbourne Cricket Club, the Moonee Valley Racing Club, the North Melbourne Football Club and the Melbourne City Soccer Club. 'I have been involved in the World Women University Presidents Forum from the early '90s,' she says.
When she is at home, Judith enjoys the company of her three cats. 'I love them. They are all moggies, all tortoiseshells. It was tortoiseshell cats like these that became part of CATLAB. The program is no longer available, but it is pleasing for me to reflect that it was used in biology classes at high schools and universities and in research on problem-solving that was published in science education journals during the 1980s and '90s,' Judith says. Remarking, as she strokes one of the cats, 'The tortoiseshell cat is a very interesting example of epigenetics.'
Words by Katherine Kizilos.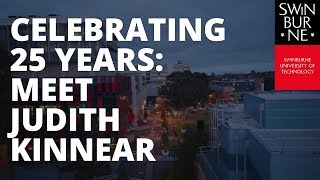 Meet Judith Kinnear
Swinburne stories

Collaboration and partnerships

Alumni

Giving to Swinburne