Meet the Swinburne researcher taking her studies on family violence to the frontline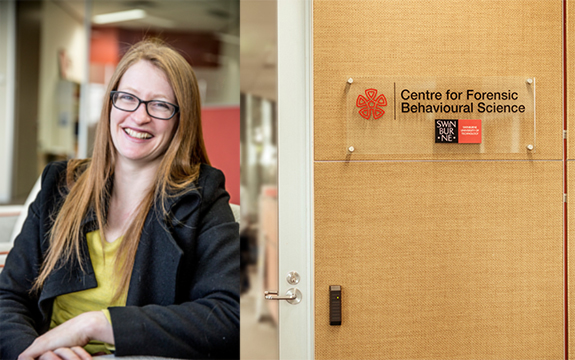 In Summary
Swinburne Associate Professor Troy McEwan studies the factors and situations that lead to gender-based and family violence
Her research aims to create standardised guidelines to help authorities classify violent behaviours
Today, every branch of Victoria Police is using the risk assessment process developed by the Swinburne researchers
Associate Professor Troy McEwan has dedicated her career to improving how we understand, treat and assess stalking, family violence and arson.  She is a clinical and forensic psychologist with more than a decade of research and industry practice under her belt.
In one of her more recent projects, she and her colleagues at Swinburne's Centre for Forensic Behavioural Science and Legal Studies have conducted extensive research into the factors that lead to acts of family violence. 
Their work has completely changed how Victoria Police conduct their assessment.
After more than a decade in the field, this is just one way Associate Professor Troy McEwan has made an impact.
Towards a new approach for Vic Police
Associate Professor McEwan and her team recently completed a five-year project with VicPolice to create better-informed, evidence-based guidelines for the assessment of family violence cases. 
Today, every branch of Victoria Police is using the risk assessment process developed by the Swinburne researchers. 
Since 2015, the Swinburne researchers have collected data from thousands of family violence incidents and used it to improve police risk assessment and management of certain offensive behaviours. Their project won gold at the 2017 Australian Crime and Violence Prevention Awards (ACVPA).
Her team collaborated with police and the Victorian Institute of Forensic Mental Health (Forensicare) to develop the new approach.
"We led this multi-year case study to encompass a wide range of family violence incidents and police responses, so the guidelines and eventual techniques we developed would be specifically designed to assess many behaviours," she says.
Clear insights
A report published by the Australian Institute of Family Studies in 2019 found that 1 in 5 women and 1 in 20 men have experienced a form of sexual violence since the age of 15.
Professor McEwan's work also focuses on identifying aspects of antisocial, violent and sexually inappropriate behaviour to predict future offending.
"At the Centre, our research in risk assessment has focused on defining an evidence-based set of guidelines to help the user prioritise or classify clients by their risk of violence or another offence" says Professor McEwan.
"The risk assessments in this field involve using our present knowledge to make a controlled decision about the risk level of a particular case, determine the type of intervention that is required and aim to prevent offending for the long term."
Associate Professor McEwan also takes her knowledge and experience into the classroom. 
As a lecturer, her presentations inform students of the factors and situations that can influence instances of violence.
"Swinburne is all about translating research into industry practice. I teach postgraduate students, as well as people who work in social services, to understand violent behaviours and identify ways to reduce them, so they will be more informed about their future client's responses and be able to tailor an approach to them."
Global guidelines on stalking
Associate Professor McEwan's other research interests include stalking and deliberate arson. She has authored over 50 published articles on these topics and developed the Stalking Risk Profile with other researchers.        
"The idea of the Stalking Risk Profile is to set a global standard for police, correctional officers, psychologists and health professionals to address both the assessment of risk and clinical management of stalking behaviours.
We wrote the profile to be a unique and specific approach to this behaviour and improve the very limited market of publications on the topic of stalking."
Professor McEwan says that violent behaviour has a lasting impression for many women, and the impact can increase for people with diverse backgrounds.
"Domestic violence not only affects individual women, but their children and extended family. It can also have an intergenerational impact.
For indigenous and migrant communities, the number of domestic violence cases increases. This is a problem that affects a significant portion of our population, and we need to be assessing and managing gender-based acts of violence as part of much wider efforts to reduce violence in our society overall."
Sexual assault and sexual harassment support services information for students is available via Safer Community.
If you feel distress related to this story support is available by calling the National Sexual Assault, Domestic Family Violence Counselling Service on 1800 RESPECT: 1800 737 732.