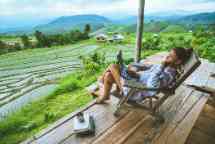 Students currently overseas
If you're a Swinburne student currently overseas on an academic program, there are some important things to remember to ensure your overseas experience goes smoothly.
Pre-departure
Prior to your departure, you should've registered your travel plans on the Department of Foreign Affairs and Trade's Smart Traveller website before leaving Australia. If you've forgotten to do so, it's not too late, jump on now.

All required Pre-Departure documents requested by Swinburne Abroad should also be submitted and uploaded to the Swinburne Abroad Tracking System.

Confirming your subjects (Semester Abroad Program)
If you've arrived at your exchange university and found that the units that have been approved on your study plan are not available, or you need to change your units for some other reason, you must get a new study plan signed off by your Swinburne course coordinator.
Please ensure that you're still completing the equivalent to a minimum full-time load as per the Credit Equivalence Table.

Once your units have been approved by your course coordinator, please email an updated version of your approved study plan to exchange@swinburne.edu.au.
Overseas and need emergency assistance?
As a Swinburne student studying abroad, you have access to 24-hour emergency support if required. In an emergency call 24-Hour Global Assistance Helpline on +61 2 8907 5995
For non-emergencies, contact the Swinburne Abroad office during business hours on +61 3 9214 5926 or email the team at exchange@swinburne.edu.au.
Is your overseas study program coming to an end?
It can be difficult returning from overseas and adjusting to normal student life back in Australia. At Swinburne we organise many events to help you readjust and to connect with other returning students.
Learn more
Need help with your overseas study program?
Contact the friendly and well-travelled Swinburne Abroad team on (03) 9214 5926 or email exchange@swinburne.edu.au for more information.
Email us