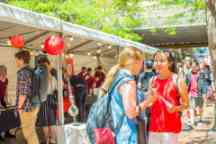 Swinburne welcomes students from all over the globe, both on-campus and online. And we assure you that wherever you are, you'll enjoy quality teaching, flexible study options and useful support services to make your university experience something that's truly world-class. 

Study in Melbourne, Australia
Join us at our beautiful Hawthorn campus alongside next generation leaders and thinkers in technology, innovation and entrepreneurship – from around the globe.
And to help you achieve your study dreams, we:

It's a great time to study with us – what will you discover?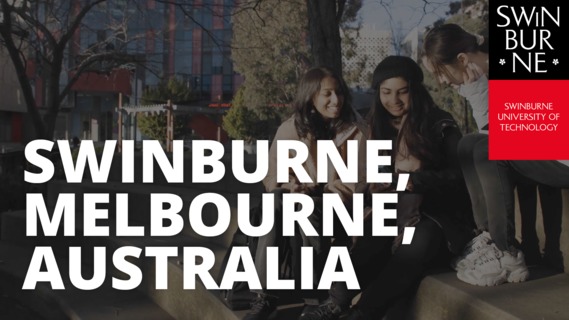 Chat with a current international student at Swinburne
Choosing to study overseas is a big decision. Sometimes it helps to talk to someone who has first-hand experience.
Chat to one (or many!) of our current international students about what it's really like studying at Swinburne and living in Melbourne.
Meet our students
Why choose Swinburne?

Our commitment to high-quality teaching over our 110-year history is what makes us educational leaders in science, technology, innovation, business and design. At Swinburne, we help you reach your academic goals in a fun, vibrant and accepting environment.

Why study in Australia?

If travel restrictions mean you can't be here right now, it's still fun to dream about your ultimate study destination! World-class education, breathtaking landscapes, vibrant cities and friendly locals (even kangaroos and koalas) — it's no wonder our international students love Australia! 


Living in Melbourne, Australia

When you arrive, you'll quickly discover why we have such a great reputation for sport, art, culture, shopping (and the best coffee on the planet!). Here are some of the things you can look forward to in our beautiful city. 

International student stories

Discover how students from all over the world are enjoying life at Swinburne while successfully building a career in Australia and their home countries.
I want to study in Australia, what's next?
Start planning the next steps of your study experience in Australia. Choose from a variety of study areas and courses, connect with international agents in your home country and source application help and visa advice to ensure you have all your paperwork in order.
Find a course

Search our degrees, diplomas and master programs, and find information about pathways to a degree. Explore a range of flexible study options to suit your needs and career goals. 

8 tips for applying as an international student

Combine the adventure of travel and the experience of studying in Australia by becoming an international student at Swinburne University of Technology. Here's what you need to know to apply. 

Student visas

Understand the student visa you need to study in Australia, learn how to apply for or renew your student visa, and check the health cover you need.

How to accept your offer

Accepting your offer at Swinburne is easy. Follow our simple steps and start your adventure today.

Applying for Australian student visa

In most cases, you need a student visa to study in Australia. You must first accept your offer to study with Swinburne and pay your university deposit before applying for a visa.

Renewing Australian student visa

If your current student visa is due to expire and you plan to extend your current course, you will need to renew your student visa before it expires.

International agents

We have education agents all over the world. Make an appointment in your home country and find answers to all your questions.

Transferring to Swinburne from other universities

Receive credit for units completed in other courses at other institutions. Check out our credit calculator to see how much credit you may be awarded.

Recognition of prior learning in the workplace

Find out how to gain recognition for prior learning through relevant work experience that is formally recognised when commencing a degree or vocational education course at Swinburne.

Plan your arrival in Melbourne

Received your Confirmation of Enrolment from Swinburne and organised your student visa? You can start to prepare for travel to Melbourne.

Work Integrated Learning

Swinburne guarantees real industry experience in all our bachelor degrees in the form of placements, internships or industry-linked projects.

Scholarships

We offer a wide range of scholarships to help selected students from all walks of life reach their academic goals.
Completing Year 12 as an international student in Australia?
If you're already studying Year 12 in Australia as an international student, you will need to apply through the Victorian Tertiary Admissions Centre (VTAC) to study at Swinburne.
Learn more
Preparing for study in Australia
If you're interested in studying at Swinburne as an international student, there are some important details to consider prior to your application and arrival in Melbourne.
Course tuition fees
Find out everything you need to know about tuition fees, deposit requirements and other costs that may apply to your chosen area of study.
Learn more

Student visa attendance requirements
It is essential that you are aware of the attendance conditions attached to your student visa. If you do not meet the attendance requirements for your chosen course, your visa status may be impacted.
Learn more

English Language Intensive Courses for Overseas Students (ELICOS)
Swinburne offers English Language Intensive Courses for Overseas Students (ELICOS) to help you improve your English language skills in preparation to study and to progress your career. There are also minimum English language entry requirements that apply to Swinburne courses.
Improve your English language skills
Events

Swinburne regularly hosts events for international students. Get involved in these to make friends, expand your networks, improve your academic skills and create unforgettable memories.
Student Life

International students: Rural and regional career opportunities

Are you an international student? Get insights on career opportunities in rural and regional Australia, and the benefits!

Register now

(International students: Rural and regional career opportunities)

Student Life

Australian professional business etiquette: Communication skills spotlight

Are you an international student? Increase your employability by improving your professional communication skills, both verbal and written, in demand by Australian employers.

Register now

(Australian professional business etiquette: Communication skills spotlight)

Student Life

Finding part-time or casual employment in Australia

Are you an international student? Learn from our career consultant and special guest presenter about job search strategies, typical jobs for students, pay rates, job application tips, work rights and responsibilities and more.

Register now

(Finding part-time or casual employment in Australia)