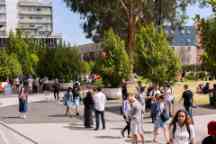 Getting started at Swinburne
Are you a new student to Swinburne? Welcome! All the vital information you need to help you get started at Swinburne and settle into university life is on this page.
From finding your way around campus to setting up your student email, here is all the information you need to settle into university life and get started at Swinburne.
Student email, password and Wi-Fi access

Set up your Swinburne student email, learn how to reset or change your password and connect to our secure wireless network eduroam.

Your student ID card and Swinburne login

Your Swinburne student ID card gives you access to services and facilities on Swinburne campuses. It's also your library card and identification for exams.

Mobile apps

Check out the apps available to help you navigate university life when you're on the go. From our learning management system, Canvas, to the Swinburne app – which features easy access to your class timetable, campus maps, security information and live chat with studentHQ – you'll get uni in the palm of your hand. 
Need to update your personal details?
If your name, address or residency status has changed you need to let us know. Find out how to keep your personal details updated below.
Find out how
The only time you'll be a number to us
Do you know your USI? Your Unique Student Identifier is a reference number made up of numbers and letters and it's yours for life. Most Swinburne students need one – make sure you tell us what yours is to get everything we can offer.
Submit your USI
Student login

Welcome to the student login navigation page. Bookmark the Student Login page in your browser to have quick access to the pages you'll need as a Swinburne student.

Canvas

Canvas is our learning management system, an online tool for accessing study materials, submitting assignments and staying informed about your units. Use your SIMS username and password to sign in and access course materials.  

Study and learning support

Improve your study and academic skills through our Learning and Academic Skills Centre. Attend workshops, advice sessions, and access support for students facing challenges.
Student Life

The student experience is about more than just books and late-night library visits. We have a wide range of clubs and societies for you to meet like-minded people and make life-long friends as well as volunteering opportunities and tickets to organised events.

Student Union

An independent, student-run representation, welfare and events service guiding students to not only unlock their academic potential, but make memories and relationships that will last a lifetime.

Clubs and student organisations

Join a club or student organisation and meet like-minded people, explore new hobbies and get involved with the issues you care about. Find your people.
What student discounts are available?
As a Swinburne student, you get heaps of discounts and concessions to choose from, including discounted travel, health and legal services. Who wouldn't want 50% off their MYKI card? Make the most of the discounts available to you while you're studying.
Learn more
Tips, tricks and useful things
Health and wellbeing

We offer comprehensive professional health and medical services to support the mental, physical and emotional wellbeing of the Swinburne community.

Your safety at Swinburne

We've worked hard to create a safe, accepting and vibrant community to ensure Swinburne remains a place where everyone can feel confident and respected – and we aim to keep it that way.

Student support services

Need support? Swinburne's student support services can help with your studies, career, health and wellbeing, accommodation, child care, IT, safety and more.
Expecting big things from Swinburne?
Great, we have a Student Charter for that! It's a university policy which defines what you can expect from us – and vice versa.
See how it works
Have a few questions about getting started at Swinburne?
Contact our friendly team at studentHQ and they'll be able to help you out.
Contact studentHQ