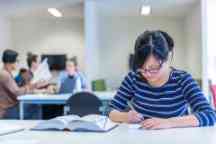 At Swinburne, we offer various study options that are designed to suit your lifestyle. From bachelor degrees to PhDs and diplomas to short courses, learn more about the study levels we offer.
Vocational Education
Certificates

A vocational education certificate from TAFE is great for accessing hands-on, practical work in areas that require more than just basic or entry-level knowledge.

Diplomas

Diplomas are designed to give you the practical skills and technical expertise to enter the workforce or prepare you for further study.
Pre-apprenticeships

A pre-apprenticeship equips you with the basic skills employers will be looking for when hiring apprentices.

Apprenticeships

An apprenticeship gives you on-the-job training while you learn a trade, earn money, and complete your qualification. 

 

Traineeships

A traineeship provides on-the-job training for non-trade professions. You'll earn money and get your qualification at the same time. 

 

Trade short courses

A trades short course can prepare you for a trade exam or simply teach you a new skill. 
Bachelor degrees

Often the first experience at university for people leaving school, a bachelor degree provides you with the theory and knowledge to begin a professional career.

Double degrees

Studying a double degree will allow you to study two areas at once and shows a higher level of expertise to future employers

Associate degrees

Our associate degrees are two-year tertiary qualifications that will prepare you for a career as a paraprofessional or highly-skilled worker, or for further study in your field.
Postgraduate 
Master degrees

Master degrees are the next step after a bachelor's degree, designed to extend your  expertise in a particular field and prepare you for the next step in your career.

Doctor of Philosophy

A PhD (Doctor of Philosophy) is focused around a significant, original piece of research that demonstrates a critical knowledge and understanding of a particular research area.
More options
ELICOS

Are you an international student wanting to improve your English language skills? Explore our English Language Intensive Course for Overseas Students (ELICOS).
Single units of study
Single units of study let you try out an interesting subject or complete a requirement for a future course, without having to do an entire degree.
Find out more
Short Courses
Short courses are great for learning a new skill for professional development, or just for fun. Taught by industry experts, choose from a huge range of study options in topics such as design, media, the arts, business or IT.
Find out more
Got questions about starting in 2024?
What's the course structure? How will I fit study into my life? Is there any financial assistance that applies to me?
Whether you're looking at business or design, postgrad or trades – there's November event for you.