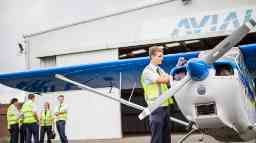 Get your career off to a flying start with one of our piloting courses. 
Swinburne's pilot courses take you from never flying to achieving a commercial pilot licence, and gives you the skills to go on to a professional career.
You'll fly planes with CAE Melbourne Flight Training School in a busy Airport Setting (at Moorabbin Airport), with access access to a large fleet of glass cockpit equipped aircraft and state-of-the-art simulators.
You'll graduate from our pilot school with the skills and confidence to fly for commercial airlines. The sky truly is the limit with Swinburnes pilot course.
Check out our courses to find detailed course information, application dates, entry requirements, fees, subjects, ATAR requirements and more.
Browse our Pilot Training courses
Got questions about starting in 2024?
What's the course structure? How will I fit study into my life? Is there any financial assistance that applies to me?
Whether you're looking at business or design, postgrad or trades – there's November event for you.
How to become a pilot

Few jobs conjure up the feeling of intrigue, adventure and romance like becoming a pilot. Discover how to become a pilot and earn your wings through Swinburne.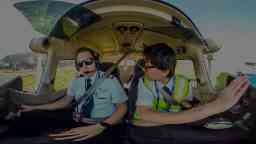 Study Aviation at Swinburne
Aviation at Swinburne
Take to the skies from Semester One with our CAE Melbourne flight training partnership.
"Swinburne is the best option for aviation if you want to get your pilot training and a degree. You get all the qualifications required to work for an airline. It's such a cool thing to be 18 years old and able to fly yourself from Melbourne to New South Wales."

Josh , Bachelor of Aviation
©
Qantas Future Pilot Program
We have partnered with Qantas to offer a new pilot pathway program that qualifies Swinburne's flight crew of the future to fly with QantasLink, the airline's regional brand.

©
Jetstar cadet pilot training
Swinburne is proud to provide cadet pilot training for Jetstar. The cadetship program trains future First and Second Officers to fly Jetstar Airbus A320 and Boeing 787 Dreamliner aircraft.
Science
Technology
Aviation

Swinburne's AIR Hub to drive the future of aerospace

The Australian-first Aerostructures Innovation Research Hub (AIR Hub) will bring together the best of Victoria's aerospace research, design and manufacturing leaders to work with industry on the next generation of air mobility.

Monday 08 November 2021