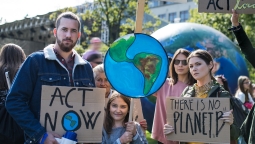 Arts, Humanities and Social Sciences
Become the innovative thinker our world needs. Explore the relationships between individuals, societies and cultures and be ready to impact the challenges faced by our rapidly evolving world today and in the future.
Why study Arts, Humanities and Social Sciences with us?
#1 in Victoria for student satisfaction with overall experience*
Highest median salary in Victoria#
#1 in Melbourne for student support services*
Choose Arts, Humanities and Social Science at Swinburne
Deepen your knowledge of how our history has impacted us and unpack the critical global problems facing our collective future. Discover how social, political, technological and cultural movements drive change.
Learn core units focused on strategies on social change and create campaigns for real world change through collaborations with industry. With a flexible structure of relevant and innovative majors, co-majors and minors or even a double degree – unearth what inspires you and where you want to impact the world most.
Browse our arts, humanities and social science courses to find detailed course information, application dates, entry requirements, fees, subjects, ATAR calculator and more.
How to become a criminologist

What does a criminologist do? Are criminologists in demand? How much do criminologists earn? Here's a step-by-step guide to becoming a criminologist. 
"When looking for a university, look for a place that will have your best interests at heart in terms of welfare and your own goals. Swinburne have always been incredibly kind, compassionate and able to both understand and push me where needed, and that is the kind of experience I would urge any student to engage with."

Solomon , Bachelor of Arts (Professional)
Cultural study tours
Visiting the First Peoples Exhibition, Bunjilaka Aboriginal Cultural Centre at Melbourne Museum.

Visiting the First Peoples Exhibition, Bunjilaka Aboriginal Cultural Centre at Melbourne Museum.

Visiting the First Peoples Exhibition, Bunjilaka Aboriginal Cultural Centre at Melbourne Museum
*QILT Student Experience Survey 2018–2019, 2019–2020
#QILT Graduate Outcomes Survey 2017–2019, 2018–2020
Design
Student News
Film and television
Technology
University

The 7 Swinburne exhibits at ACMI in August

ACMI and Swinburne present thought-provoking digital experiences as part of the next gen_now program from 7–13 August in the Swinburne Studio and Gandel Digital Future Lab.

Monday 02 August 2021

The Voice: how do other countries represent Indigenous voices in government?

One of the claims advanced by the "no" campaign in the upcoming referendum on the Voice to Parliament is that "there is no comparable constitutional body like this anywhere in the world". Yet across the globe there are many political institutions that seek to guarantee Indigenous peoples are heard.

Friday 22 September 2023