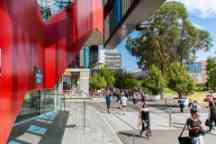 So you want to know more about the courses we offer here at Swinburne? Good news, you're in the right place! Go ahead and search for a specific course or browse our courses by study area.
Throughout our 110-year history, our commitment to high-quality teaching and our passion for providing job-ready skills is why we're an internationally recognised university and educational leaders in science, technology, innovation, business and design. Our high-quality courses are the centre of what we do, choose to study TAFE courses, bachelor degrees, postgraduate degrees or short courses. ​
Or browse by study area
Applied Innovation

Develop the mindset of a creator and innovator with Swinburne's Bachelor of Applied Innovation. Just add it to one of our popular bachelor degrees as a double.

Arts, Humanities and Social Sciences

Learn how the world works through an understanding of arts and society

Aviation

Our aviation courses take you on a transformative journey through an industry on the forefront of business and technology. We provide you with the essential study areas of this multifaceted field.

Built Environment and Architecture

Design sustainable spaces and buildings for the future

Business

Lead, innovate and succeed in any industry

Design

Use innovative design thinking to define how our futures look and feel

Education

Learn how to help our next generation succeed

Engineering

Build new products, structures, systems — change our world

Film and Television

See how others have captured the world, so you can do it your own way

Games and Animation

Build new worlds, tell untold stories, and invent new characters

Health

Help communities and the individuals within them be happy and healthy

Information Technology

Be at the forefront of the digital transformation sweeping through our lives

Law

Learn to think creatively and start solving the unsolvable

Media and Communication

Share your stories and others' with clarity and purpose

Nursing

Join the frontline of the medical profession and help those in need

Psychology

Understand the human brain, our motivations and peculiarities

Science

Learn to satisfy your natural curiosity and help us understand the world

Trades and Apprenticeships

Put yourself on the path to earning a nationally recognised trade qualification
Got questions about starting in 2024?
What's the course structure? How will I fit study into my life? Is there any financial assistance that applies to me?
Whether you're looking at business or design, postgrad or trades – there's November event for you.
Want to know where your ATAR score can take you?
Find out all your study options at Swinburne by using our ATAR calculator. It is as easy as using your ATAR score or predicated ATAR score to view all the available courses within your study area of interest. ​
ATAR calculator