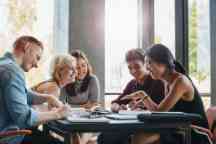 Ask a group of Swinburne final-year students to invent a practical solution for a real problem facing your business or organisation.
Is your organisation looking for some fresh eyes, new insights and perspectives? We now offer opportunities for businesses, start-ups, community services, charities and other organisations to take on groups of students to help solve industry problems. 
Your group will be made up of students from different faculties, chosen and mentored by an academic to invent a practical solution to your issue. 
These students will collaborate with you over a semester, as though they were already working in the professional world. 
Past projects have addressed stagnation in revenue, retention of talent, improving productivity, developing a business plan, targeting a new market and developing new products.
Some of our recent partners include;
Design Bureau

The Design Bureau is a student-led design studio. The bureau works together with clients who care about social good, ranging from start-ups to research institutes. They undertake a rigorous and collaborative design process that involves listening, research, strategy, conceptual development and design development. Students are dedicated, inspired designers who care about solving design and communication challenges.
Speak to our advisers
Talk to us about a project you think might suit. We'll work with you to develop something suitable for our assessment requirements.
School of Health Sciences
Monica Thielking, Chair, Department of Psychological Sciences
+61392144402
mthielking@swinburne.edu.au
Jason Howitt, Chair, Department of Health Sciences and Biostatistics
+61392148645
jhowitt@swinburne.edu.au
Roger Hughes, Chair, Department of Nursing and Allied Health
+61392143446
rmhughes@swinburne.edu.au
School of Social Sciences, Media, Film and Education
Mark Freeman, Chair, Department of Film, Games and Animation
+61392146948
mafreeman@swinburne.edu.au
Therese Davis, Chair, Department of Media and Communication
+61392143331
theresedavis@swinburne.edu.au
Ruth Abbey, Chair, Department of Humanities and Social Sciences
+61392143691
rabbey@swinburne.edu.au
Susie Gravis, Chair, Department of Education
+61392144983
sgarvis@swinburne.edu.au
School of Design and Architecture
Andrew Haig, Chair, Department of Communication Design
+61392144807
ahaig@swinburne.edu.au
Gianni Renda, Chair, Department of Architectural and Industrial Design
+6192146026
grenda@swinburne.edu.au
Need more information?
For more information on our student projects, submit an online enquiry to and we'll get back to you shortly.
Submit an enquiry